With the summer days a distant memory the vibrant hues of going out dresses and glamorous evening wear take a different turn. Winter weddings and Christmas time are the perfect time for trying out the rich and luxurious fabrics, different textures and colours.
 you may also like…
The thought of buying a grey outfit may not excite the senses as much as a pink or purple one unless of course it's a Jacques Vert creation. Then expect the grey to shimmer in the light and the ripple pleat skirt and jacket to ooze elegance. The silver grey colouring adds just the right amount of sophistication for an up to minute tailored look.
Best of all, the silver grey shimmer jacket is the main player in a multitude of combinations. A simple camisole underneath means the jacket can be kept on to make up a suit with the nickel pleat skirt. Other options that can be worn with the fitted jacket is the spotted knee length shift dress or spotted layered skirt. Available sizes 10 12 14 16 18 20 and 22.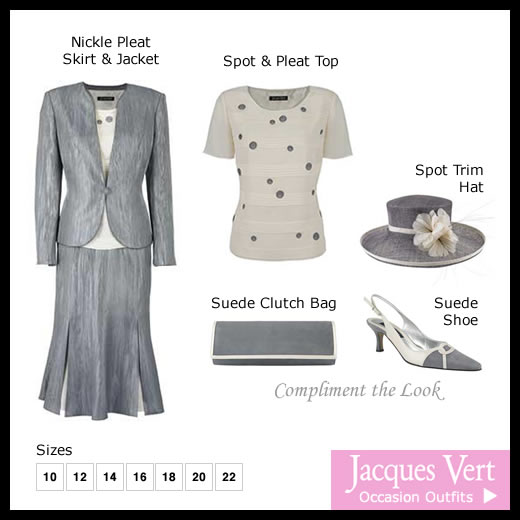 Silver grey is a good choice for formal functions, weddings and special daywear. Accessorising is easy with grey; it is a great base for layering with other colours. Pink, navy, ivory, white, and black can instantly change the mood of the outfit.
The great mix of grey accessories include an opulent flower hat, nickel suede shoes and matching clutch bag.
Items shown
Suede clutch bag
Nickle jacket
Pleat skirt
Spot trim hat
Spot & Pleat
Suede shoes