The statement coat of the season comes in the shape of the stylish Peacoat. This trendy double breasted short pea coat carries off the military theme perfectly. Big buttons turn back cuffs and a flattering cut makes this a winner in the style stakes. Day casuals can be instantly given a makeover with a smart white peacoat.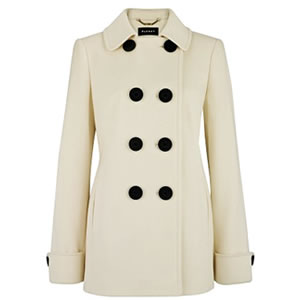 With winter in full swing you can never go far wrong with a peacoat to keep you warm. At this time of year a winter jacket or coat is possibly the most important buy of the moment that will have to go with so many a/w oufits. The gorgeous cashmere wool blend will wrap you in warmth while you get on-trend with the latest military look.
The large black buttons on the military style jacket contrasts well with black trousers for chic day or evening wear. This fabulous short coat is also available in vibrant shades of pink or lime green. Whatever way you wear your new wool coat you are sure to brighten a dull day.
You may also like
White Peacoat Details:
Length Detail: 70cms (27.6 inches)
Lining: 100% Polyester
Fabric Detail: 70% Wool 20% Polyamide 10% Cashmere
Wash Inst: Dry Clean
White, Lime, Pink
Sizes: 6, 8,10,12,14,16,18,20