The wonderful combination of smart tailoring and exquisitely crafted fabrics is what makes the Viyella label so special. Their collections hold a timeless appeal for women who appreciates quality, style and understated elegance. A fine balance of cutting edge contemporary and traditional styles can be found across the whole range of clothing. We came across this fabulous looking tweed skirt suit tucked away in Viyella's Manhattan Collection.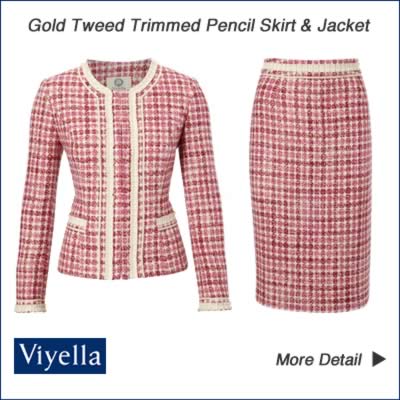 ---
You may also like these occasion suits…
---
The classic look of the tweed suit has had a makeover ready for the new season. The soft shades of pink and cream soften the look of the textured fabric giving a total feminine appearance. The Gold Tweed Collarless Jacket can easily be worn with other skirts and trousers for a smart casual outfit. The matching tweed pencil skirt is just as versatile for wearing with separates, satin blouses or plain jackets.
When worn together this two piece skirt suit gives a classic look a thoroughly modern twist. The pencil skirt falls below the knee, features pleating around the waist and is fully lined in a luxe satin feel material. The tailored jacket has the same pleat detail around the neck, front, pockets and cuffs. Sizes available: 8, 10, 12, 14, 16, 18, 20.