Tahari Mother of the Bride Occasion Outfits
Tahari Dresses & Jackets
Discover Tahara dresses to wear from desk to dinner. Classic styles from the Tahari ASL label are elegant for any event. Find fabulous modern outfits for Mother of the Bride and wedding guests. Summer through to winter occasionwear are forever elegant. The range offers a timeless look most suited to today's fashion-conscious women. It's the quality craftsmanship and designs that define the brand. Trendsetting looks include off the shoulder, raised necklines, jumpsuits, and dresses with sleeves. Choosing a dress with a matching jacket or skirt suit is perfect for formal functions. New collections include lightweight topper coats, boucle blazers and tailored jackets with coordinating skirts and trousers.
Tahari Dresses & Mother of the Bride Outfits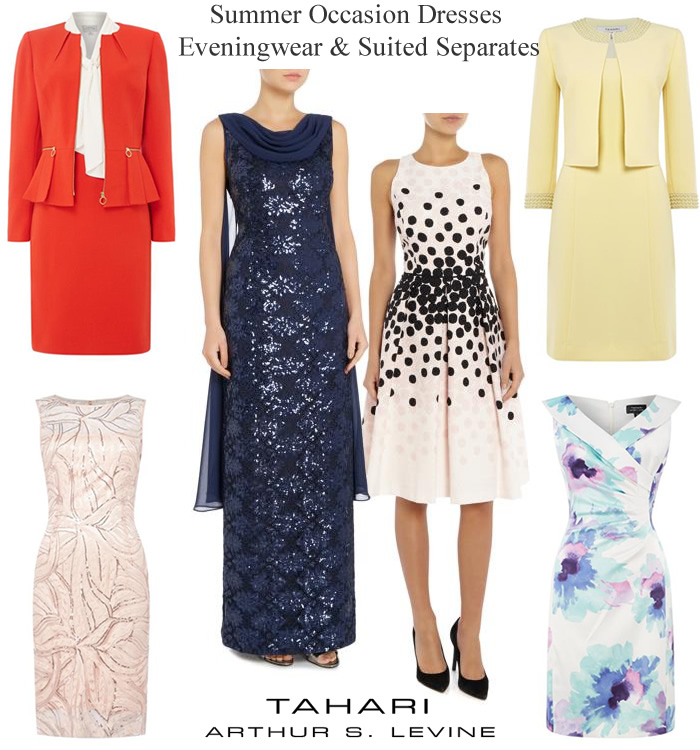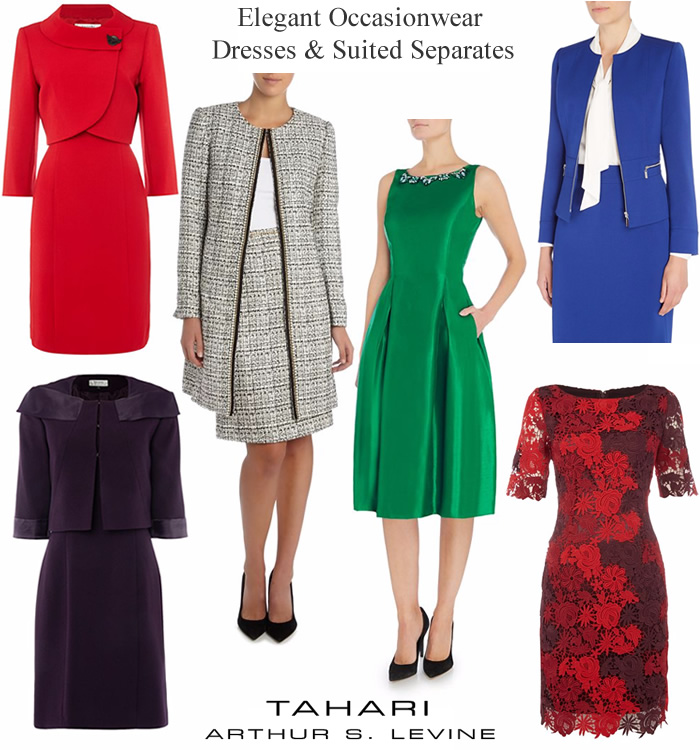 Party Dresses and Evening Gowns
Tahari Arthur S. Levine's unique sense of style radiates throughout their clothing range. Embrace old Hollywood glamour in dramatic florals, opulent accents and luxurious lace. Stand out in a ready to wear wedding suit or decorative cut-out sheath dress and jacket. For a streamline, number choose a floor-sweeping velvet evening gown. When it comes to the festive season there's plenty of sparkles too with jewel trim party dresses. Enhance your figure in a flattering fit and flare, bodycon, A-line, tunic or jersey dress. Capture each season's mood in rich and vibrant colours. Stunning shades of red, royal blue, emerald green, purple, navy, pink and plum.
Matching Dress Trouser and Skirt Suits
Expertly tailored suits take event dressing to the next level. Paired separates with easy mix and match options extend your going-out wardrobe. For a polished finish, team a shift dress, skirt or dressy trousers with a chic cover-up. This can be a frock coat, trendy fitted zip jacket or smart blazer with brooch detail. New topper coats are lightweight and elegant offering a relaxed fit over many outfits. Longline and short style jackets come in a range of finishes. There are embellished, printed and textured jacquard fabrics. Ivory, black and silver boucle work well over a matching pencil skirt with chain detail.