Kaashi Dress and Coat Outfit
Add a touch of glamour to your new season wardrobe with this striking two piece outfit from Monsoon. The Kaashi coat boasts a shimmering textured weave and is styled to be worn open with a swing cut for a feminine flourish. Features include a hand-embellished crystal adorned neckline and three quarter sleeves with bead detail at the cuffs. A trans-seasonal shade that works any time of the year.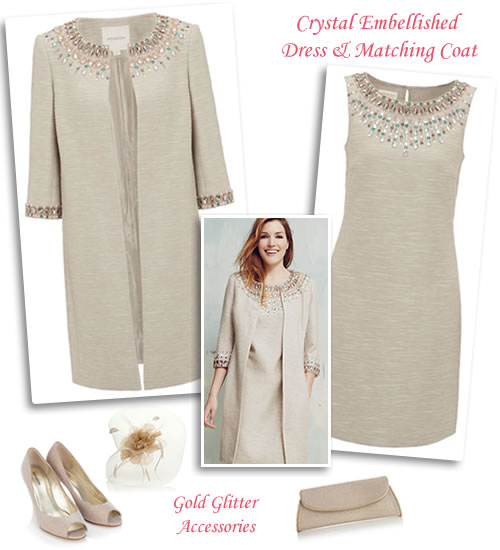 Matching Shift Dress
Wear with neutral coloured dresses but for the ultimate combination team with matching shift dress. A knee length style elegantly tailored to compliment this occasion coat. Features a mid weight shimmer fabric in nude, concealed zip and back button.
Monsoon Occasion Outfits
Highly distinctive designs with a strong influence from the Far East continue to inspire us. Monsoon's signature look is thanks to their team of talented designers that gather ideas and inspiration from around the world. Occasion outfits rich in dazzling embellishment and crafted from luxurious fabrics are perfect for special event dressing. Easy to shop by style and occasion from the cocktail hour, a day at the races to wedding and eveningwear.
Elegant Accessories
For the perfect finish, compliment your look with accessorises from bags and shoes to jewellery. Sophisticated day to evening wear combine feminine styling with a splash of exotic colour and detailed finishing. Just add the essentials for a show stopping ensemble. New arrivals include sequin clutch bags, printed purses and bejewelled handbags in rose pink, silver, gold, nude and black. Complete with a pair of chic corsage shoes, courts or sandals and a fabulous hat or fascinator. Pretty headpieces come in a range of delightful shades for all your summer occasions.