Team a plain dress or simply cut outfit with a fabulous piece of jewellery and see it transform before your eyes. Choosing a pair of earrings that picks out some of the colours of an outfit is a fun way to update your look and getting it right will make a big impact in any photo shoot at a wedding!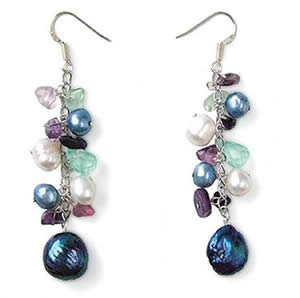 ---
Decorative drop earrings like these multi coloured cultured pearls will contrast well with many colours especially blues, greens, mauves and cream. The versatility of a pair of multi coloured pearl earrings means they can be worn many times.
Bring out your natural beauty with these delicate elegant drop earrings and you will feel as good as you look.
Product details
Height: 80mm
Metal: Sterling silver
Plating: Rhodium
Finish: High polish
Mix shape multicoloured cultured pearls
Number of pearls: 10pc
Shape: Near-round, Baroque
Size: 7.00mm – 12.00mm
Colour: White, Blue
Baroque multicoloured aventurines and fluorites
Number of Gemstones: 14pcs
Shape: Baroque
Size: 5.00mm – 8.00mm
Colour: Multicoloured
A stunning hand made sterling silver earrings by BoBijou with blue and white pearls, fluorite fragments and aventurine briolet is finished off with a large dark blue coin pearl.
Bijou are renowned for their exclusive contemporary jewellery and excellent workmanship. You'll find authentic high quality cultured pearls and gemstones beautifully put together and finished with silver or gold.