Oriental Florals Collection
The new Oriental Florals Collection at Jacques Vert is a great way to add a cool element to your occasion wardrobe. Here you will discover delightful mix and match options in shades of purple, amethyst, silver and grey. Chic relaxed styles along with more formal looks in plain and floral prints give you an outfit for all occasions. Silver grey is a popular choice for Mother of the Bride and Groom that will combine well with other colours of the wedding party.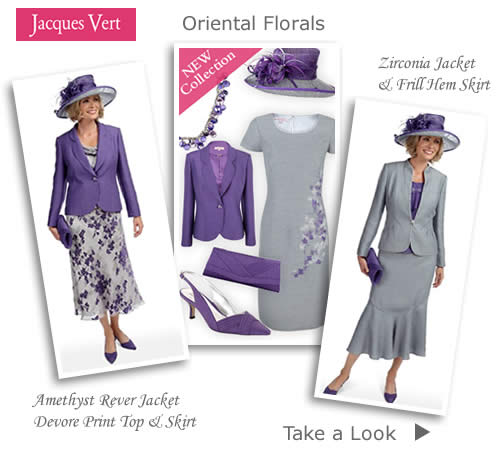 Embroidered Shift Dress & Matching Jacket
For understated elegance the Zirconia Embroidered shift dress and matching silver grey jacket is a timeless classic. Its structured shape is designed to enhance the silhouette and give a flattering fit. The collarless jacket has edging piped in silver and a corded button fastening. The soft shade of grey is versatile to wear with contrasting colours to extend your occasion wardrobe.
you may also like..
Bias Cut Floral Dress, Skirt, Top & Collarless Plain Jacket
Break up the one colour theme with the Wisteria Devore Floral dress, skirt or top in a sumptuous colour palette of shimmering greys and lilacs. Wear with co-ordinating one button plain jacket and matching hat.
Pull-on Style Dress
The floaty pull-on style dress is designed to flatter the figure and sits mid calf with a bias cut v-frill hem. Further details include an attractive draping neckline that finishes with a side bow, luxury satin lining and pretty short sleeves. Accessorise with a smoky zirconia and amethyst feather fascinator, shoes, handbag and necklace for a complete stand out look.