Glamorous Wedding Styles
For the ultimate in wedding glamour look to Shubette, the leading fashion group renowned for vintage styling and exquisite tailoring. If you've already experienced the elegant collection of their much loved label; Gina Bacconi you can look forward to more of the same with shimmer day dresses matching boleros and luxe eveningwear.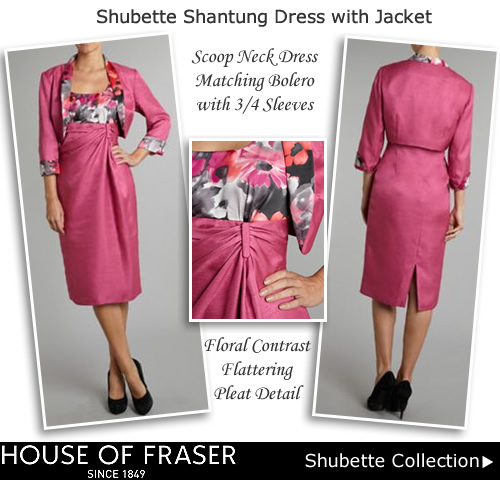 ---
Elegant Mother of the Bride Outfit
If you're looking for a winning combination that you can wear to almost any type of formal event the Shubette pink dress and jacket makes an enviable ensemble. No washed out powder pink here instead you have a rich deep shade of pink that will lift your mood and compliment your complexion.
Shantung Dress with Matching Jacket
You won't fail to get noticed in this dream of an outfit. A complete look that has everything covered with figure flattering pleating under the bust, scoop neckline and dainty three quarter sleeve bolero to match. The knee length dress has a fitted waist, side zip fastening and floral top. The matching cropped jacket has contrasting cuffs and collar finished in the same pink and grey print as the bodice.
New-in occasion outfits…
Gina Bacconi Lorie Jacquard Coat, Blue
John Lewis & Partners
was: £240.00
£192.00
Fenn Wright Manson Savannah Dress, Sweet Pea
John Lewis & Partners
was: £199.00
£99.00
Helen McAlinden Sandy Boucle Jacket, Cream
John Lewis & Partners
£280.00
Helen McAlinden Lydia Boucle Coat, Cream
John Lewis & Partners
£349.00
Kiku Dress
Fenn Wright Manson
£249.00
Kiku Skirt
Fenn Wright Manson
£149.00
Lichtenstein Jacket, Navy
Fenn Wright Manson
£149.00
Bluebell Mock Wrap Chiffon 2 piece Dress With Scallop Trim
Chesca
£225.00
Amelie Coat Blue Multi
Hobbs Ltd
£199.00
Amelie Dress Blue Multi
Hobbs Ltd
£149.00
Fenn Wright Manson Sakura Dress, Multi
John Lewis & Partners
£199.00
Fenn Wright Manson Lichtenstein Jacket
John Lewis & Partners
£149.00
---
Luxurious Shimmer Fabric
Stand out pieces in soft to touch fabrics are expertly finished for an ultra feminine appearance. Their individual designs will appeal to the discerning women who will appreciate the unique designs and attention to detail on each garment. The range has everything from classic daywear with a hint of shimmer to dazzling evening gowns full of sparkle.
Brands at House of Fraser
Shubette designers excel in producing clothing that reflect the style and quality of its brand. Their new season collection can be found at House of Fraser and includes some inspirational two piece outfits ideal for the Mother of the Bride or Mother of the Groom. For an evening gala you can shimmer in one of their sequins maxi dresses or an off the shoulder prom dress.