Floral prints are back in fashion which is good news for anyone looking for a summer occasion outfit. Buying print floral skirts and dresses is a great way to extend your wardrobe. They are so versatile and easy to pair up with plain jackets and boleros.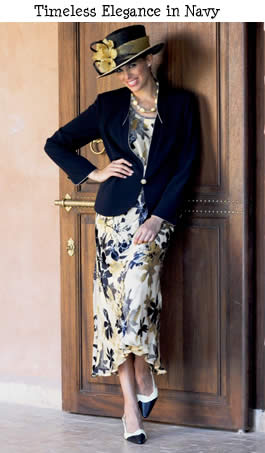 This wonderful ensemble from Jacques Vert shows you how easy it is to create a special occasion outfit. The pretty short jacket has hand-made front and cuff corded buttons with contrast edge detail on the neck and cuffs.
Wearing a one button jacket with an open neckline is a great way to show off statement pieces of jewellery. The one button styling also allows what you are wearing underneath to be seen. Dresses, skirts and tops in contrasting colours can make up so many elegant outfits.
Navy worn on its own can be a little sombre for a summer outfit but teamed with pretty pastels, prints and florals will brighten the whole look. A delicate cream chiffon top with navy trim to the neckline can be worn over a plain or floral navy frill hem skirt.
you may also like…
No matter what you choose to compliment the jacket choosing navy as the basis of the outfit is a good choice. Navy is one colour that has a sense of occasion wrapped around it and is perfect for formal affairs.
We found The whole outfit from the Mimosa range from Jacques Vert wedding outfits. Best of all is the wonderful collection on offer to help you complete the look that suits you. There are navy and cream slingback shoes, wide brim flower hats, navy clutch bags, floral print scarves to match the top and skirt plus other suggestions in similar styles.