Reiss Mother of the Bride Occasion Outfits
Reiss Mother of the Bride Outfits
Discover Reiss occasionwear for modern Mother of the Bride outfits and wedding guest dresses for 2022. New-season collections include two-piece tailored suits in neutral hues, beige, off-white, champagne, blush pink, ivory and cream. Be event ready with an elegant dress and wrap coat, pencil skirt and longline jacket or dressy trouser suit. We hope you like the selection of Reiss Mother of the Bride Outfits and Occasionwear. You may also like our Wedding Style Gallery.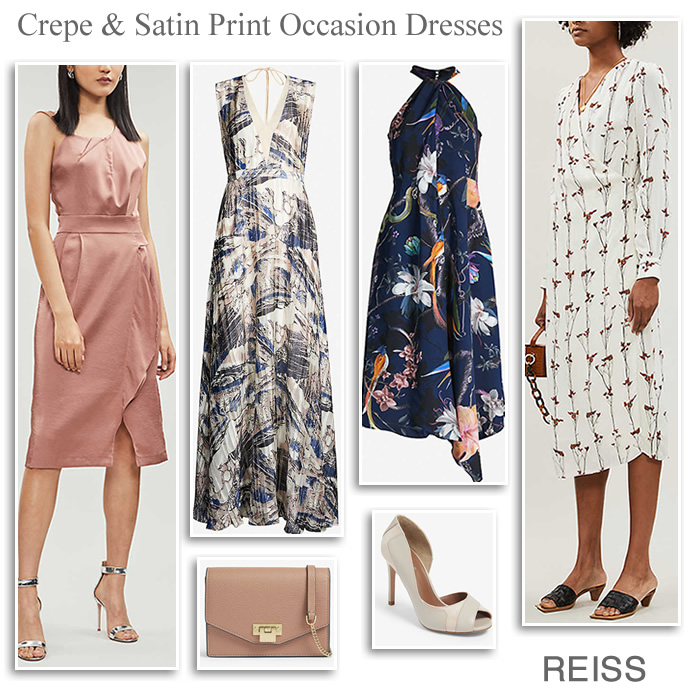 Wedding and Evening Outfits
Shop the latest designer brands, including Reiss dresses, occasionwear, wedding and evening outfits, shoes and bags at Selfridges. Find outfit ideas for wedding guests and modern Mother of the Bride or Groom.
The new dress collection includes: Sara bronze ruffled knee-length satin cocktail dress with asymmetric shoulder straps. Alix blue and white abstract-print pleated maxi dress features a semi-sheer neckline, deep V-cut back and a flowing, flared skirt. Renae Ivory floral-print midi dress is shaped with a wrap over front and blouson sleeves. The Yasminda rainforest-print crepe midi dress is sleeveless with a draped halterneck, cutout at front and back bodice, flared skirt with front pleat and asymmetric hem.
Fashionable styles include off the shoulder dresses, jumpsuits and wide-leg tuxedo trousers with a double-breasted blazer. For chic eveningwear, there's cold shoulder and lace dresses, strapless maxi gowns, along with fit and flare styles.

2022 Wedding Outfits
Every year we can look forward to an exciting occasion and wedding wear collection. So enjoy browsing the one-stop home of on-trend wedding and occasion wear. Outfit inspiration for all wedding parties, including Mother of the Bride/Groom, guests, and even the Groom himself.
The collection offers exceptional quality, design, and value and pieces made from the finest material, resulting in desirable clothing at affordable prices. The range of design-led modern and iconic womenswear and menswear combine luxury fabrics that are beautifully cut, hang well, and are unique in their design.
Entirely British owned, the understated brand has become a favourite with the Duchess of Cambridge. Kate, seen flying the flag on numerous occasions, caused a sell-out with her fabulous engagement dress; the Nanette. Another sell-out number, the Shola bandage dress, flew off the shelves within hours of Kate meeting Michelle Obama.
Fashion Trends & Inspiration
With its renowned celebrity following, Reiss is proud to be part of history celebrating over 40 years in the business. Creative designs focus on luxurious materials, while high fashion pieces have a little pizzazz to match each season. The brand is special because their clothing is not mass-produced super-cheap fashion; instead, you have unique pieces that look and feel amazing. Trend-conscious and fashion-driven women will appreciate the selection of glamorous clothing for an ever-changing wardrobe. Be inspired with the latest trend report and dress code for an instant style update.
Modern Wedding Outfits and Accessories
The brand has grown to more than100 stores worldwide from a single store and has become a much-loved destination for finding occasion dresses. The dedicated in-house design team continue to create and innovate fashion-focussed clothing for men and women, including a range of everyday essentials and accessories. In addition to their exciting new season collections and latest trends, you'll find classic coats, cosy knits, casual wear, trendy skirts, tops, jumpsuits, leather and denim. Shop the Lookbook for inspiration or check out the latest in occasionwear, shoes and bags.