Gina Bacconi Occasion Outfits
Cut a striking silhouette in an ultra-chic jacquard dress and matching bolero. The colour and luxurious jacquard fabric taps into the mood of the season perfectly. Structured and sophisticated tailoring gives the look an edge for day to evening versatility. Occasion-wear from Gina Bacconi is always cut to flatter with glamorous outfits for any event.
---
Jacquard Dresses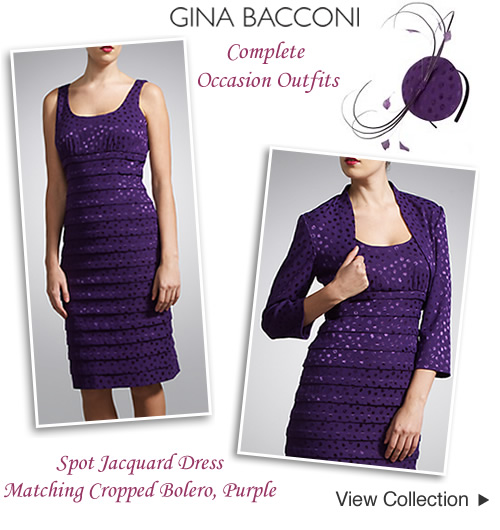 Tiered Sleeveless Shift Dress
Turn up the volume in a purple shimmer dress made for the cocktail hour. The subtle sheen of the jacquard spot print fabric exudes understated glam. The delight is in the lovely material and flattering tiered effect. Its figure-enhancing qualities and luxe-looking hue makes a bold statement. The mid-length dress has a straight sleeveless design with a high back and round scoop neck.
Matching Bolero Cover Up
For a sharp and totally feminine look slip on the matching bolero. The open neck and dainty three-quarter sleeves allow room to show off a pretty necklace or bracelet to complement the outfit. Two piece dress suits are popular at weddings and a purple combination is an ideal winter colour.
Wedding Fascinators
Secure your on-trend status with fully coordinating purple accessories. The all-important finishing touches such as eye-catching disc shape fascinators adorned with flamboyant feathers is a must. The ease of wearing this type of headwear is sometimes preferred to wedding hats. They can be a simpler and more minimalist adding glamour to any outfit. Best of all you are more likely to wear again to race days, garden parties and christenings.
View Gina Bacconi Occasionwear
Occasionwear Brands at John Lewis&amp Partners
Discover an array of partywear, evening and special occasion wear at John Lewis & Partners. It's here you can browse your favourite brands and discover what's hot from the catwalk. You'll also find the complete top to toe wedding attire along with new fashion collections from Gina Bacconi. A successful label focussing on elegant designs for the discerning women who love to look good every day.