There is something regal and majestic about the colour purple that makes us feel extra special. Occasion dresses and two piece outfits in purple can include varying shades like violet, lilac, lavender, magenta, indigo and mulberry. The wonderful combination of hot red and cool blue come together to create the vibrancy of purple into our wardrobe like no other colour.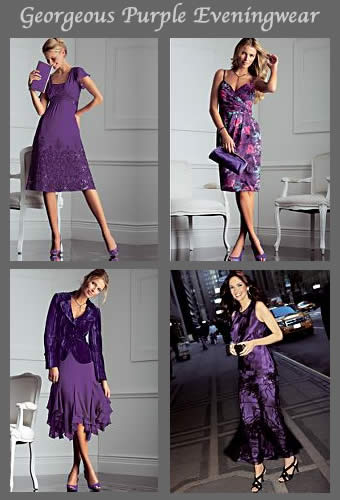 We love these four stunning creations from Kaleidoscope's special occasionwear range. Their new collection sets us up nicely for the party season and especially an autumn or winter wedding. All outfits are available in sizes 10, 12, 14, 16, 18, 20, and 22.
Top Left:
Together Beaded Party Dress
This fully lined floaty dress is totally feminine and gives just the right amount of coverage of the arms. It has beautiful beaded detail and cap sleeves. A bright and dazzling dress for those wishing to go to the ball. Details: Fully Lined, Dry clean, Polyester, Lining: Polyester, Length approx. 101 cm (39¾ ins)
Top Right:
Together Wrap Dress
Show off your flare for fashion with the latest look in floral print. Wrap dresses are made for creating an hourglass figure and the nipped in waist will do just that. For a stylish cover up on those chilly evenings wear with a chic purple sequin cardigan. Details: Fully lined, Hand wash, Polyester,Lining: Polyester, Length approx. 101 cm (39¾ ins),
Bottom Left:
Together Dressy Skirt & Crushed Velvet Tailored Jacket
A versatile choice for mixing with other pieces to create different looks. The jacket can be dressed up when worn with the with the godet skirt or can be worn with smart trousers or jeans.  Jacket Details: Fitted Style, Dry clean, 80% Viscose, 20% Nylon, Lining: Polyester, Length approx: 56 cm (22 ins)
The cut of this dressy purple skirt is very flattering to the figure.The godet hem detail gives a lovely swishy movement as you walk that adds to its feminine appeal. Skirt details: Hand wash, Polyester, Lining: Polyester Length approx. 79 cm (31 ins)
Bottom Right:
Cornelli Contrast Skirt & Satin Top
You can find many ways to wear these two piece separates but they will always look the best together. The fabulous mesh maxi skirt has cornelli detailing and has contrast satin lining. There is a concealed side zip and hook and eye fastening. Skirt details: Washable, Polyester Mesh, Lining: Polyester Satin, Length approx. 91 cm (36 ins)
A stunning purple evening top that is a real show stopper when worn with the cornelli mesh maxi skirt. It can also be teamed with dressy black evening trousers and shorter knee length floaty skirts. The sleeveless satin top features a pretty frill to the round neck that adds a touch of glamour to the occasion. Top Details: Key Hole Back, Single Button Fastening, Washable,Polyester
All four purple outfits are from Kaleidoscope's new collection. There are matching accessories, sandals, shoes, clutch bags and jewellery also available to complete the look. You'll find these and many more classic quality pieces that you will love wearing from one season to another.