Curve Occasion Outfits
Curve Mother of the Bride & Groom Outfits
Plus size Occasionwear designed to flatter your curves. If you are curvy and size 16 plus there are now many online stores such as Chesca, Yumi Curve, Coast Curve, and Karen Millen Curve.  Discover a range of elegant occasion wear, partywear, and Mother of the Bride outfits in plus sizes. Shopping today is definitely easier than it used to be. Be first to see new arrivals from Chesca There's also a complete range of plus size clothing at John Lewis & Partners. Hope you enjoy the collection we have put together.
Wedding Outfits in Plus Sizes
Baukjen Suzy Curved Waist Floral Midi Dress, Tangerine Folk
John Lewis & Partners
Baukjen Suzy Curved Waist Floral Midi Dress, Pale Lavender
John Lewis & Partners
Adrianna Papell Plus Jacquard Fit and Flare Sleeveless Dress, Mint/Multi
John Lewis & Partners
Adrianna Papell Plus Size Floral Chiffon Wrap Maxi Dress, Black/Multi
John Lewis & Partners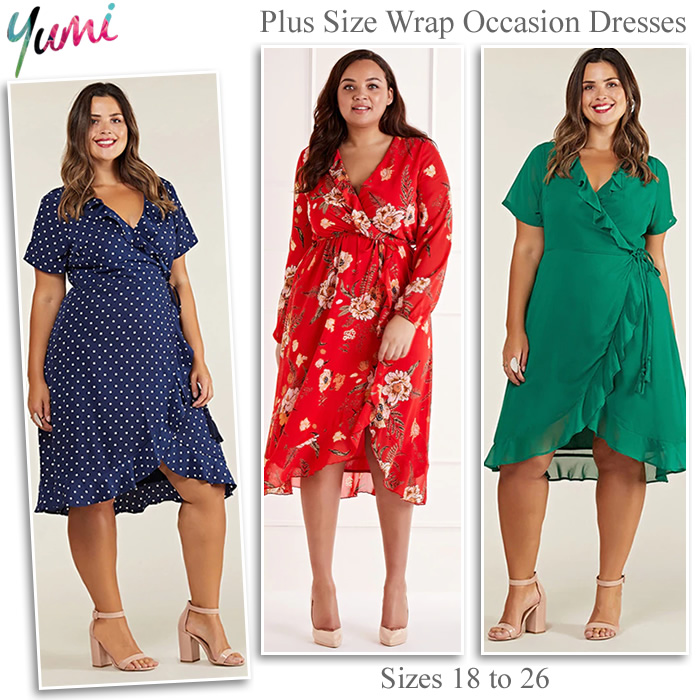 Yumi Curve Plus Size Wrap Midi Dresses and Occasionwear
Yumi occasionwear and floral print occasion dresses. Trendy Mother of the Bride and wedding guest outfits. Spring and summer day dresses include floral embroidery pleated dress, rose printed jacquard flared dress in teal blue and black flower print midi dress.
Gina Bacconi Occasion Outfits in sizes 8 to 26
Gina Bacconi Plus Size Passion Sequin Lace Shift Dress, Spring Navy
John Lewis & Partners
Gina Bacconi Plus Size Onika Embellished Cape Dress, Cornflower
John Lewis & Partners
Gina Bacconi Plus Size Jayne Lace Bodice Dress, Plum
John Lewis & Partners
Designer Curve Dresses Plus Size 20 to 26
Curve Plus Size Dresses – Karen Millen and Coast
John Lewis is the place to go for stunning plus size evening dresses, occasionwear and everyday dressy casual outfits cut to flatter in plus sizes. Shop by occasion, size, colour or find inspiration with the latest must-have fashion. Grab some inspiration with instant style tips helping you choose the correct dress shapes that best suit your figure. Find trendy maxis, floaty skirts and dresses plus fun loose fitting holiday essentials, footwear and accessories.
Studio 8 Fashion in 16 to 24
Very CURVE Dresses
Chesca Plus Size Occasionwear 12 – 24
The Chesca brand is a great choice for curvy girls who like to dress up and look their best day and night. In addition to a fabulous range of plus size occasion wear, wedding and Mother of the Bride outfits there's smart casual wear too.
You'll find comfy stretch jeans, waterfall cardigans, silk shrugs, satin camis and floaty dresses.
Spring and summer fashion is full of delightful shimmer, lace and silk fabrics with pretty floral print dresses and 3 piece silk devore outfits. Complete occasion outfits made up of satin camisoles, drapey jackets and gorgeous skirts and dressy trousers make shopping easy.
Each season brings with it bright and beautiful collections and when the weather turns chilly you can look forward to a variety of warm hues in knitwear, quilted coats and cosy ribbed cardigans.
When the party season arrives Chesca know how to lay on the glamour with embellishment on georgette dresses and shrugs, flowing maxi skirts and figure flattering Jersey dresses.
Chesca's easy-to-wear fashion always flatters your figure beautifully and is available in sizes 12 14 16 18 20 22 24.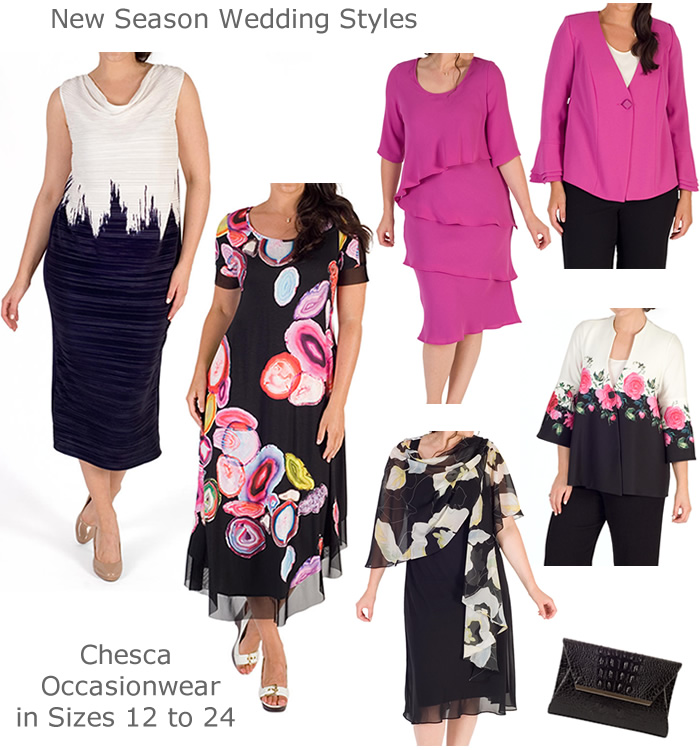 ---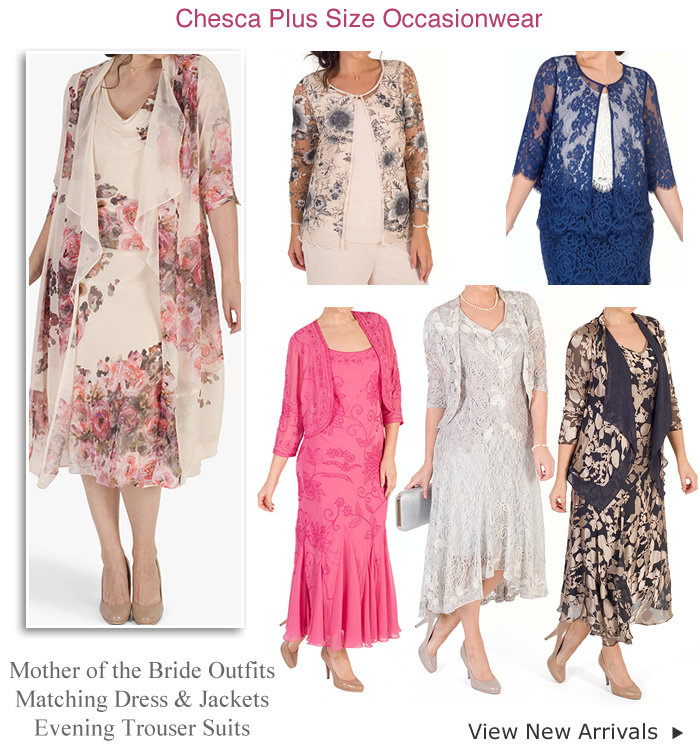 Discover effortless elegance and understated glamour from premium plus size fashion designers at Navabi. Shop the new season for wedding outfits, two piece dress suits and cocktail dresses cut to flatter the fuller figure. For dressy trouser suits in plus sizes you'll find a fabulous range of chiffon evening trousers too.
---
Anna Scholz Clothing
Discover plus size fashion to truly inspire the curvy woman with sensational party pieces and comfortable clothing for all occasions. Here you will find new styles and regular favourites in sizes 12-28 with helpful suggestions to complete an outfit.
Anna Scholz is a celebrated designer of larger clothes for women and appreciates the difficulty for women shopping for plus size womenswear. The website is packed with stylishly combinations for the best plus size look and shows the latest seasonal collections.
Spring/summer dresses are alive with colour with bold prints and patterns. While the autumn/winter range is full of rich jewel-coloured fabrics and cashmere wraps, cardigans and tunics.
You can also shop for plus size designer tops, jackets, trousers and kaftans in easy to wear styles for day and evening wear. Big size outfits that are big in style are what Anna Scholz collections deliver along with flirty and effortless glamour.
Plus Sizes Bras, Swimwear, Lingerie and Nightwear
Where do lovely ladies with big boobs find the best type of dress, outfit and lingerie that fits perfectly, shop? The answer has to be Bravissimo. Bravissimo are passionate about the lingerie business producing more styles to suit the bigger bust.
Now bigger girls haven't just got to buy the only available bra in their size instead they can enjoy browsing a whole range of sizzling lingerie and bras in bigger D-KK cup sizes.
All types of gorgeous bras can be found from sports bras, nursing bras, soft cup and shape-wear plus T-Shirt bras for a smooth silhouette under tops.
Best of all, Bravissimo girls can start loving their curves and feel good about how they look with clothes specially designed for their shape. A range of outfits is on sale that offers the correct support to flatter the bustline with gentle pleating and gathers in all the right places.
There are also coats, jackets, pea coats, blouses, tops and dresses plus strappy tops with a built-in bra, nightwear and swimwear in sizes 8 to 18. Each size has 3 additional sizes to account for the fullness of the bust; curvy, really curvy and super curvy.
Ann Harvey Clothes Sizes 16 to 32
The place to go for fashionable outsize ladies clothes, jackets, coats and trousers plus the latest looks in dresses, skirts and blouses.
Curvy women's clothing at its best can be found with a variety of styles to keep your wardrobe up to date with the hottest trends.
Get help in finding the perfect outfit to suit your body shape. It's no longer about buying large size clothes that hide your figure, it's more to do with playing up your curves for maximum impact!
Style advisors are introducing us to a new way of shopping for clothes that suit the shape of the body.
In addition to fab ideas and collections to browse through there is also a Petite Collection designed for women under 5ft 3″, and a selection of longer length trousers too.
Navabi Plus Size Fashion
Women who are blessed with luscious curves should look for fabrics that will caress their bodies like floaty material such as chiffon. Forget about knitted fabrics instead go for satin, silk, chiffon and lace for a slimming effect.
A-line, bias cut shift and Princess Style dresses are also becoming and will make you look taller too. An elegant shaped dress and single breasted coat or longline jacket finished with a glamorous hat and heels will flatter curves. A mix and match tailored suit made from soft fabrics and fluid patterns in paisley, floral or spots are also excellent.
A flip or bias-cut skirt with a shaped jacket in light to medium weight material will give movement and accommodate your curves. The best fabrics are ones that have a little stretch and gives with you.
If all your curves are around the lower half of your body then wearing the sheerest fabrics and delicate patterns here will be slimming. You can save the heavy materials and larger prints where you are slimmest.
Real style is down to individual ability to bring out the best of good assets with clothes skimming the body rather than covering up. Having a positive attitude and feeling good with yourself and in your choice of clothes will shine through on the day.
Experimenting with different clothes that you would not normally wear can be a real eye-opener. As you can see there are more and more plus size ladies clothes shops catering for fashion conscious women. You may not recognise the new you in your new style of clothes that flatter your body shape enhancing all your best bits and projecting inner confidence you never knew you had.
Curvety Plus Size Dresses:
Curvety Plus Size clothing: Here you will find great value ladies larger size day and evening wear including party dresses, evening gowns and maxi dresses. Regular updates on what's coming soon and all the latest style news in Curvety's blog keeps you one step ahead in the fashion stakes.
In addition, to drop dead gorgeous outfits for the plus size woman there is comfy casual daywear, wrap and shirt dresses plus mid length evening dresses. Curvety pride themselves in designs to flatter the fuller figure and know how to make a woman feel special in her outfit. Bra-friendly straps, cover-ups, wrap-over styles, empire line dresses with pleats and gathers in all the right places. All designed for a slimmer silhouette which is all part of what makes Curvety a favourite plus size shop.
Fashion Sizes 12 – 32
Marisota Plus Size outfits Sizes 12 – 32:  Find the best fit in a wide range of larger size womenswear that offers quality fashionable pieces designed to flatter the figure. At Marisota you'll find fashion, footwear and lingerie for all ages and sizes.
Feel fabulous today and get the latest look from their online guide on this season's trends. Make the most of your curves with features on how to wear the latest key looks and exclusive collections.
Holidays, special occasions and everyday outfits require stylish footwear that not only looks good but feel comfy too. Perfect fitting footwear is a must for healthy happy feet that's why Marisota take great care in guiding you through their wide fitting section of shoes and boots.
Plus size fashion is more exciting than ever with more choice, easy to wear styles and perfectly fitting clothes. You'll find cruise wear, Mother of the Bride/Groom wedding outfits, Grandmother of the Bride and wedding guest outfit ideas plus smart going out dresses.
Sizes 16-28 at Artigiano
You'll love the new and exciting Italian fashion for spring and summer followed by stunning outfits to take you through autumn and winter. At Spirito di Artigiano you'll soon discover sumptuous and luxurious fabrics and finely detailed plus size shift dresses and occasion-wear. Designer inspired fashion that brings a touch of catwalk glamour to your home is made more affordable thanks to direct shopping online. Now trendy high-quality clothing shaped to flatter the fuller figure is available in the UK from sizes 16-28. You'll be inspired with the latest key trends, dramatic print dresses, fine knitwear, fluid jerseys, stylish tops and jackets plus exclusive accessories to match. There's also a style guide and favourite collection of key looks and must-haves.