Special Occasion Dresses
Ensure your next going out dress is a chic one with these two fabulous fashion finds. The light pink dress with wrap over front neckline coordinates perfectly with the wool silk bolero. Mix up your look with the figure flattering swirl print dress. Wear as a two piece outfit or keep it simple with heels and stylish clutch bag.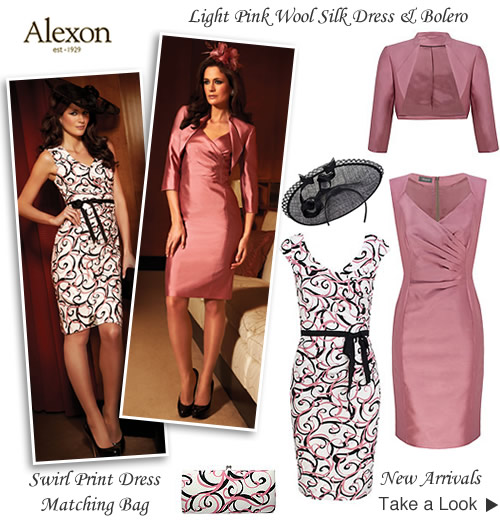 ---
Matching Jackets and Boleros
Refine your appearance with the ultimate cover up from one of Alexon's luxurious boleros. A sharp tailored cropped jacket worn with matching dress is ideal for a wedding. For a different look invest in a printed dress to wear with a plain bolero.
Styles to look out for this season have fold back lapel detail, half sleeves, turn back cuffs and edge to edge styling. Made from fine Italian fabric, soft crepe, linen and two tone shimmer fabric for choice.
new season dresses…
---
Finishing Touches
No occasion outfit is truly complete without a matching bag, fascinator or hat. It doesn't have to be the same shade as many work well with a range of colour combinations. Pinks, blue, champagne and ivory are universally popular for special event dressing. Black too is a great all rounder that will compliment many looks. The large swirl disc fascinator is a modern type of headwear that can be worn to formal affairs, race days and weddings.
Autumn Winter Collection
New season shades come in a variety of textures, exciting prints and fabrics in soft brown, dark red, purple and black. Alexon's latest arrivals are glamorous and sleek perfect for the cocktail hour and party time. Long evening gowns for Black Tie events include a fabulous keyhole maxi and contrast Grecian style dress. There's also shorter lengths in jacquard, Jersey, lace and chiffon.