Jacques Vert Mother of the Bride/Groom Outfits
Jacques Vert is home to fabulous outfits to suit all occasions such as weddings, summer parties and race day events. Top to toe looks make shopping for that special day a breeze. Standout dresses and coordinating pieces are ideal for creating elegant ensembles. From stylish separates, tops, and cover-ups to dressy trousers and on-trend jumpsuits, there plenty to keep your wardrobe up to date. So whether you are Mother of the Bride or Groom, wedding guest or bridesmaid, the wedding shop will help you build the perfect outfit for a 2016 or 2017 wedding. Discover styles for a country or city wedding venue along with exotic pieces for weddings abroad. The latest range has complete outfits including dresses and matching jackets accessories to finish your look to perfection.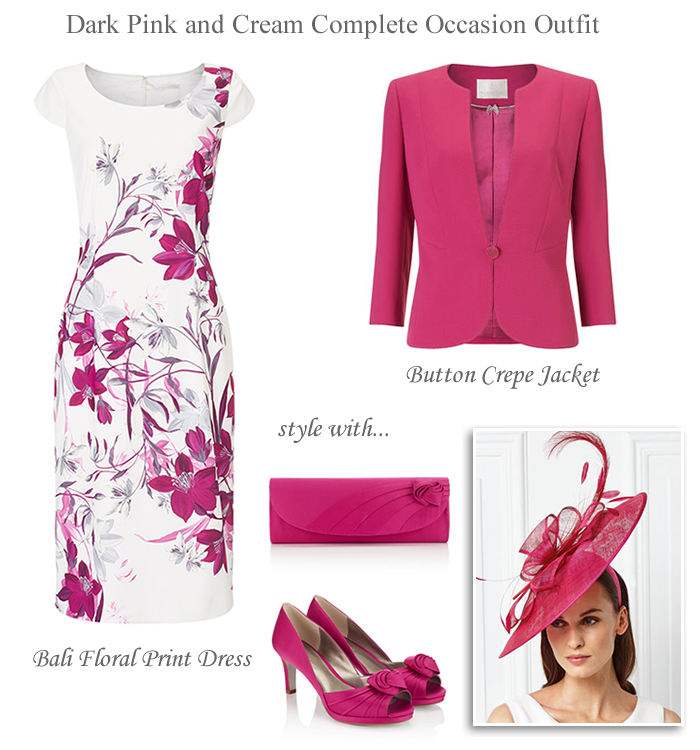 Summer Wedding Outfit
For a traditional summer wedding choose feminine florals like the gorgeous dark pink and cream print shift dress. The Bali floral print dress is not short of glamour with its placement floral print being the main attraction. Features cap sleeves, a shift style shape and round neckline. Cover up with the one button crepe jacket. Its vibrant shade of geranium will pick out the stunning pinks from the dress. The deep pink corded lace prom dress offers a different style to the shift dress. The sleeveless design with flattering flared skirt, ribbon waist belt and sweetheart neckline is an ideal party dress. Just add some sparkle with a high shine necklace, earrings, pearls or beads.
two piece wedding outfits…
Matching Shoes, Bag and Hat
For a perfect coordinating look add matching accessories. The twist pleat bag and comfortable platform peep toe shoes both have pleating and rosette detailing. No wedding outfit would be complete without a statement hat. The feather disc headpiece comes in the same punchy pink that is sure to turn heads.
Race Day Dresses
You can enjoy plenty of wear out of your Jacques Vert creations. Summer events such as a day at the races is a fun time to dress up. A wedding outfit can easily be transformed to suit the occasion. Invest in a flamboyant hat and swap a formal jacket for an edge to edge cover-up. Lace, pretty prints and layered knee length dresses in summery coral, orange and rose pink along with brightly coloured low heels are key for the racing season.