Phase Eight Occasionwear
Since their first store in south London opened back in 1979 Phase Eight fashion has continued to be a favourite. Their range of clothing caters for women who appreciate style and know-how to look good.
Phase Eight Clothing Collection
In addition to over 100 shops and concessions Phase Eight now have a new online boutique. A collection of fashionable clothing along with a great range of accessories to complete an outfit.
Bridal Range
The easy to shop online store is a great showcase for Phase 8 clothes and exclusive ladies wear. Browse the latest collection, bridal, Shoes, new-in and sale items. Plus Get the Look sections for an inspirational journey of their wedding range.
Phase Wedding Boutique
The new web site strives to capture the same boutique feel as their Phase Eight clothes shops. Thus making shopping a pleasurable hassle free experience. Regular customers will already be aware of the quality, uniqueness and styles found in-store. So can look forward to discovering all this and more online.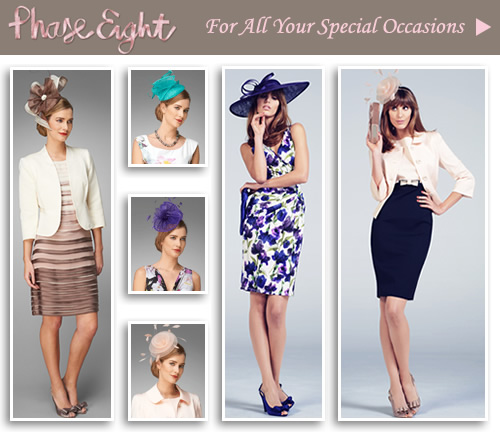 Phase Eight Dress and Jacket Outfits
Anyone New to Phase Eight fashion for women will love the individual styles. Elegant collections from dresses, blouses, skirts and jackets to knitwear, trousers, shoes and bags.
Summer Wedding Outfits
And if you're looking for the finishing touches to a summer outfit you'll be spoilt for choice too. You will discover a range of belts, hats and beautiful jewellery. The whole shopping process has also been made simple. While the filter options make light work of choosing a complete outfit all from one shop.