Phase Eight Spring & Summer Floral Print Dresses
Sunshine and longer days mean summer is on its way and with it comes an array of bright and beautiful collections. Phase Eight floral print dresses are always a favourite fashion choice and the latest arrivals include a great mix of the hottest trends from vibrant shades, bold prints to light and breezy outfits. Get the latest Phase Eight Collection
Floral Print Dresses
More Floral Summer Dresses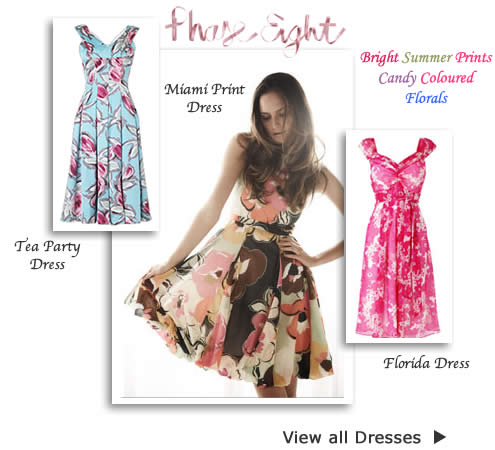 Teaparty Occasion Dresses
This fabulous collection is full of candy coloured florals for instant feminine appeal. Deep and pastel shades of pink, soft grey azure blue and cream work together creating outfits to suit any occasion. Finishing touches such as hairbands, silk scarves and necklaces complete the look.
Summer Daywear
You'll feel great wearing the beautiful and fashionable pieces from the Santa Monica collection. The vibrant splashes of cherry red, black, pink and purple make wonderful combinations for a different look every time. The Phase Eight Miami Print Dress in soft cotton offers a sophisticated silhouette with an air of 50's couture. The flirty full skirt and eye-catching floral print make a serious stamp on this season's ladylike trend.
---
View New Arrivals at Phase Eight
Bridal Dresses & Wedding Guest Outfits
At Phase Eight you will find dresses, jackets, shrugs and everything to look great at a wedding. Hats, fascinators, satin peep toe shoes and matching clutch bags in soft romantic colours are also perfect for a day at the races. Quality silk, Tapework lace and cotton sateen add a touch of glamour throughout the range. Shopping is made easy with special selections for Family & Friends, Bridesmaid, accessories and Bridalwear keeping all the wedding party happy.