Celebrate the arrival of summer with the latest arrivals in fresh soft green and prints for an instant up to date look. Finding the perfectly proportioned fit is essential when looking for an outfit for a petite lady. No matter what the occasion buying clothes specially designed for the smaller frame will flatter your figure.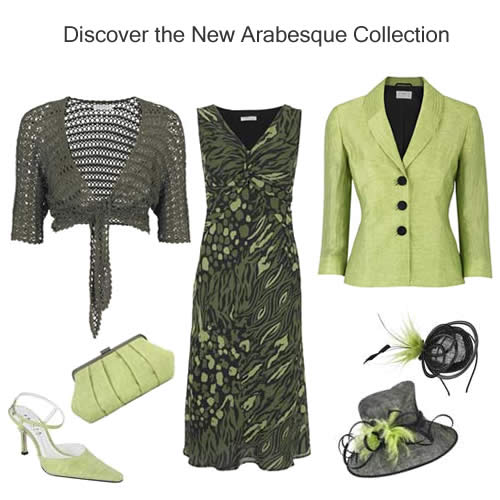 View new range of Petite Clothing >>>
This collection we found today is soft and feminine and has all the ingredients for a day at the races to a stylish wedding. Outfits that can be worn in many ways is the best idea for all day events.
The abstract print dress is sleeveless with a front crossover knot and godet hem. The bias cut of the dress skims rather than clings to the body for a ladylike appearance. It falls at just the right length below the knee and looks great with a cropped fitted green jacket.
For a light cover up the crochet cardigan with batwing sleeves is a good choice for petite ladies who feel uncomfortable with bare arms. The khaki colour blends well with the khaki, fig green and black of the crinkle dress. You can wear the cropped green cardy loosely tied or knotted.
Finishing touches make an outfit look extra special. Occasions where you can wear a hat or fascinater gives you the chance to show off your style technique. Luckily the new range has complete matching bags, shoes, hats and fascinators in the same colour.
The black and green combination leaves it open to how you dress the whole look up. You can choose the whole ensemble or select just the green slingback linen shoes and clutch bag with chain strap. Best of all, if you do buy all the pieces they will easily match other outfits.
Hat wearers will love the fancy feather spray hat, twisted black sinamay ribbons and beading that is perfectly styled to look good on petite women. If you are not so bold the latest look can be achieved with the stunning black cap fascinator. Styled on a ribbon covered headband, it has a decorative bow & swirls with a spray of fig flower-shaped feathers.