Lime & Black Petite Ladies Dress & Cropped Jacket
Take a break from pastels and florals instead go for a sizzling mix of lime and black. Petite ladies can relish in the latest additions and look forward to showing off their flare for fashion. The beautiful Lime and black Scribble Print Dress is the perfect partner for the matching Lime Double Edge Crop Jacket and matching accessories.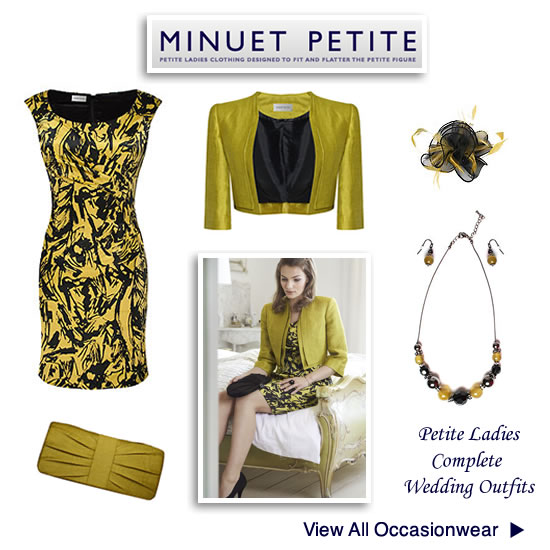 ---
Petite Mother of the Bride Outfit
The sophisticated two piece dress and jacket is ideal for a Mother of the Bride, Groom or wedding guest outfit. Its versatile colour transcends the seasons giving you an outfit to wear for summer through to winter. Dress details include flattering side gathering and open round neckline in a fabulous stretch fabric; 96% polyester 4% elastane. Sizes available 8 -18.
more petite occasion outfits …
---
Complete Wedding Outfit & Accessories
Enjoy the shopping experience at Minuet Petite with helpful outfit ideas and suggestions on what to wear. Buy the whole ensemble with dress, matching jacket, lime pleat detail bag, black tipped lime swirl fascinator, lime multi bead earring and necklace set. The stunning short bolero style jacket sits perfectly over the tailored shift dress for a flattering silhouette. Finding exact match accessories to go with the outfit is a boon and will complete the look of your special occasion outfit.