Mother of the Bride Summer Outfit
For a statement look this season try Eastex's fully coordinating occasionwear. The latest collection is all you need for top to toe outfit ideas for every event. For a summer wedding the jacquard skirt suit is smart and sophisticated. The collarless jacket has a piping trim in rose, hook and eye fastening and two detailed welt pockets. The matching pencil skirt has a part elasticated waist for comfort and a jigger button.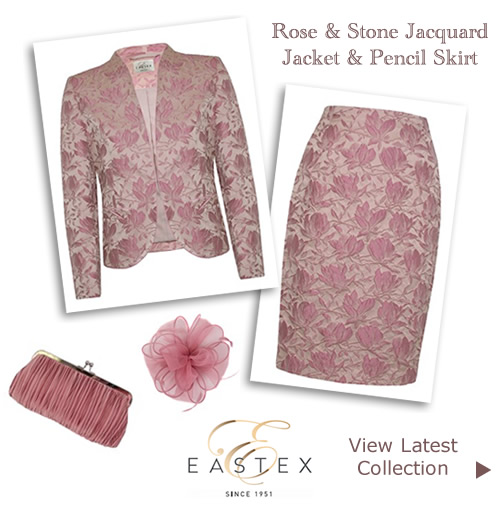 ---
Lace Pencil Skirts and Tailored Jackets
The beauty of an elegantly cut jacket is its versatility. It can be partnered in so many ways creating an abundance of styles for all your events. A plain jacket over a floral skirt or dress is a summer classic.
Satin Back Trousers
For a luxe evening combination who can resist a lace jacket worn with matching pencil skirt or with satin backed trousers. There's a colour to take you through the seasons too including pastel blue, orange, peach, lavender, brown, navy, and black. Enjoy browsing the new collections of special occasion dresses, wedding guest outfits plus garden party, race day and Mother of the Bride outfits.
you may also like…
---
---
Eastex Matching Two Piece Sets
Collections at Eastex are designed so they are easy to mix and match. You'll find pretty printed blouses to coordinate with fit and flare skirts, cardigans and cool linen trousers. There's also loose floaty dresses with matching scarves and crepe jackets plus hats and fascinators for a complete occasion outfit.
2 in 1 Tops & Vests
Understated vests that sit beautifully beneath a two piece suit come in wonderful shades and styles. New arrivals include short sleeve two tone lace, sequin and mesh insert tops plus a range of knitwear, embellished cardigans and blouses. The lightweight tie front blouse and cami is an attractive 2 in 1 set ideal for the warmer months. Another stunning duo is the two in one burnout collarless blouse with an under-piece camisole.