Occasion Dress and Jacket
Effortlessly individual styles from Jacques Vert are updated in gorgeous new season hues of pale blue and navy. Flattering shift shapes in modern prints and pretty flower detailing add a feminine touch. A sleeveless dress with matching jacket is always popular. For a complete spring wedding outfit match with coordinating bolero or tailored jacket along with chic pointed shoes and clutch.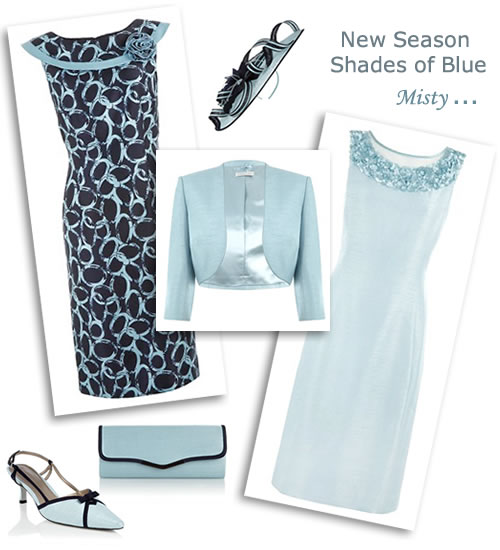 Sleeveless Shift Dresses
Lovely new arrivals include stylish clothing and accessories for smart daywear to more formal functions. The Circle Print shift dress features a striking bardot neckline trimmed in pale blue with a removable corsage. A pretty floral detail dress offers an alternative look with beads and laser cut flower detailing to the front. Both dresses match back perfectly with pastel blue cover ups. Choose from a curved front piped collarless jacket or bolero.
new season styles…
Mystique Collection
Jacques Vert is one of the best places to shop for that special occasion ensemble. The new Mystique collection radiates fashionable of the moment style with fresh new colours and unique embellishments. New arrivals also include a striking corsage detail dress coat in navy with separates in similar colour-ways but for spring we love the paler blue pieces. Softer shades giving an elegant rather understated look.
Occasion Dress and Jacket outfits
Satin Shoes and Matching Bag
Match your hat, shoes and bag to compliment your outfit. Make a style statement with the glamorous saucer hat with feather and loop detail. Running with the blue theme are a choice of dark navy or light blue slingback shoes. Styles include delicate mesh panels, bow trim and comfortable kitten heels perfect for dancing the night away. The Mystique clutch is a must have accessory for the wedding season. Occasion bags come in luxurious tones of misty blue with navy edging to a fold over front finished with silver bar detail.