Add a touch of glamour to your wardrobe with this beautiful purple tiered dress. For a complete two-piece outfit wear the dress with the matching jacket. Also available is a skirt in the same shimmer fabric for a dressy skirt suit choice to a wedding. Purple Dresses and Outfits are a great wedding outfit choice.
---
Karen Millen Km Rose Organdie Halter Shirt Dress -, Purple
by Karen Millen
Karen Millen
Purple Dresses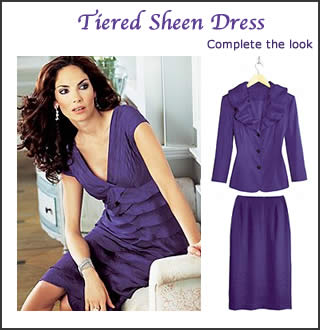 Women who bought these pieces loved the attractive design, colour and flattering cut of the sheen dress. Some choose to wear as a Mother of the Bride/Groom outfit while others couldn't resist adding another party dress to their wardrobe.
It's that time of year when shimmer, sparkle and glamour come together to make a gorgeous package. Fashion stores everywhere are putting on their best show ready for the Party season. It will be easy putting together a stunning outfit for a party or special occasion with the new Partywear range from Kaleidoscope.
---
Whether it's a Christmas party, night out with friends or wedding reception you'll have fun finding the best look to suit the event. The range includes sequin cover-ups, wraps, capes, faux fur bolero and smart tops, accessories and dressy sandals and shoes. Occasion separates, twin sets, prom dresses, maxi dresses, long skirts and body con pencil dresses complete the collection.
Tiered Sleeveless Dress
Length 41ins
Stretch Fabric
70% Viscose 19% polyester 11% Nylon
Mesh Lining
Concealed back zip
Gold or Purple
10 12 14 16 18
Skirt Details
Length 27ins
Fully Lined
70% Viscose 19% polyester 11% Nylon
10 12 14 16 18
Frill Collar Sheen Jacket
Fully lined
Dry clean
70% Viscose, 19% Polyester, 11% Nylon
Length approx. 56 cm (22 ins)
10 12 14 16 18