Eveningwear & Dressy Separates At Gray & Osbourn you'll find fabulous items from a whole host of designers from Basler, Helene Berman, Anise, Betty Barclay, Chesca, Bernshaw, Fenn Wright Manson and new designer James Lakeland. But for the ultimate in glamour the Gina Bacconi collection is a hard one to resist. Elegance abounds across their latest evening-wear with beautiful cocktail dresses, skirts and georgette evening trousers and tops to match.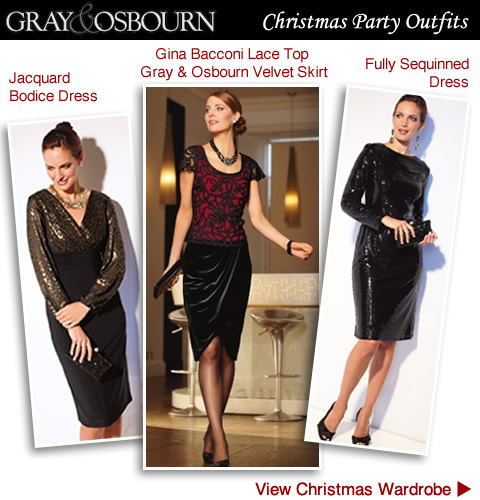 Gina Bacconi Illusion Lace Evening Top With lace in the fashion spotlight this season Gina Bacconi's lace evening top is a chic on trend buy. Today we're loving the red and black lacy short sleeved top that is versatile to wear with pencil skirts as well as sleek silk trousers.
Black tape lace sits perfectly over red jersey for a contrasting top that works well with black. The model here is wearing a velvet tulip knee length skirt with draped front. Make the most of the wide open neckline with a striking necklace.
you may also like…
---
Sequinned Sparkle Dress For a sultry after dark ensemble Gina Bacconi dresses are ultra sophisticated and body beautifying. Prepare yourself for your grandest entrance in sparkling black sequins that's certain to make you the centre of attention. The Sequin Sparkle Dress has all over black sequins with zigzag front panels, v-back neckline and long sleeves. An alternative to this LBDis the Contrast Fitted Dress with burnished gold and black animal print chiffon top and plain jersey skirt. The crossover style is a great figure flattering feature.
View Gina Bacconi Occasionwear
New Christmas Party Wardrobe If you need some inspiration on what to wear this coming party season take a look at Gray & Osbourn's new Christmas Party Wardrobe. Here you'll find a wonderful collection of statement pieces in rich jewel colours, sparkling sequin and luxury fabrics. Prepare to dazzle with fabulous dresses, skirts, trousers, coats, shoes and accessories to complete your outfit.