The latest colour craze to dominate catwalks and designerwear this season is a mix of nude and neutral hues. This is good news for extending the wear of existing pieces in your wardrobe. Understated colours contrast well with bold splashes of colour and patterns in other items.  Tailored jackets with matching dresses for a wedding or special family occasion is a smart choice that can worn to so many other events.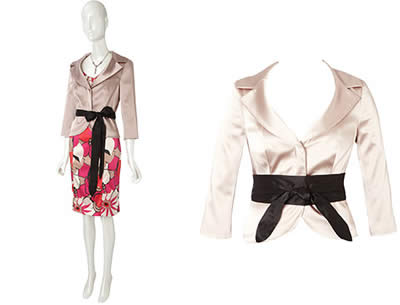 This beautiful modern jacket can be worn in so many ways and is very flattering. The fitted style has a wide black belt to nip your figure in at the waist for a more shapely appearance. Teamed with a slim black pencil skirt and high heels is sure to get you noticed and set you apart at any formal occasion.
occasion jackets….
Another fab idea would be to partner the champagne colour jacket with a stunning satin print dress. Day time invitations and summer weddings are the best time for showing off your fashion style and trying out designer inspired outfits.
Melaney Jacket- Sissinghurst Collection:
Dry Clean Only
Acetate 59% ,Elastane 5% ,Polyamide 36%
Includes: Belt