This easy to wear skirt by Anne Weyburn is smart and stylish. It can be worn on its own teamed with a summer blouse or with a jacket for a formal occasion. Knee length skirts are ideal for day wear and can show off an elegant pair of shoes to perfection.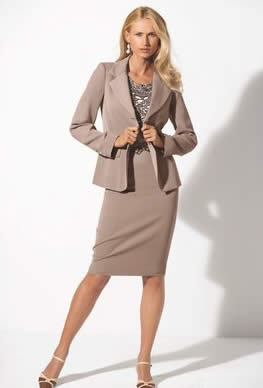 View more skirts
Straight skirts work well with a tailored jacket of the same or similar colours. The quality of the skirt's microfiber material and heavyweight drape gives a soft draping feel that keeps its shape.
---
All day events require outfits that will stay smart and keep their shape. This skirt is ideal; it is made from crease resistant polyester and fully lined. Best of all, it has elasticated sides towards the back of the skirt for added comfort and freedom of movement.
---
Style: Special occasions, smart
Colours: Grey-Pink, Navy, Rosewood
Sizes: 10-24
Length: 64cm
Materiel: Polyester, Microfibre
Lining: Polyester
Machine Washable