Stretch Mesh Undergarment with Sleeves
Extend your occasionwear wardrobe with clever mesh tops designed to give the illusion of sleeves. Sleeveless tops and dresses are instantly transformed with these versatile pieces from Gina Bacconi. The sheer fabric undergarments are worn over a bra and underneath a dress or top. An easy way to change the look of an outfit whilst giving upper arm coverage at the same time. Choose a style to compliment your LBD or cocktail dresses from plain black and navy mesh to polka dots and patterned lace. View Occasionwear and Partywear Lingerie Solutions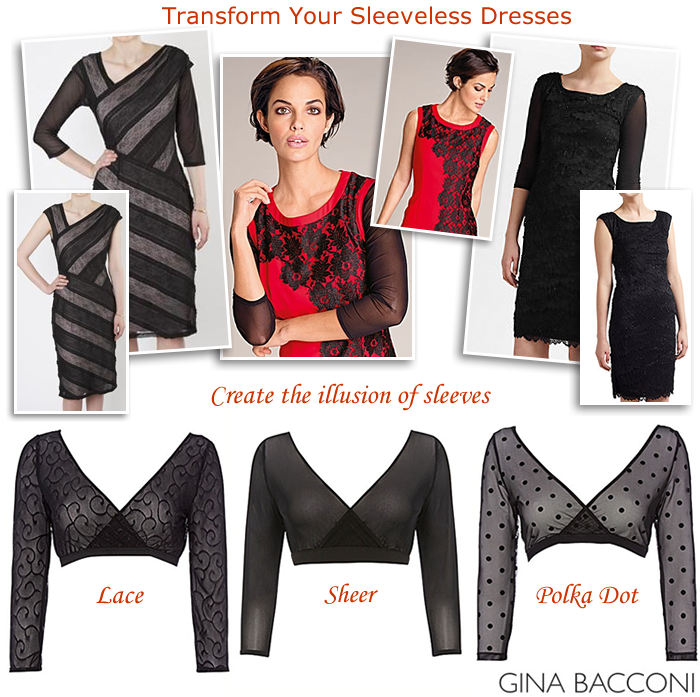 Flattering Upper Arm Coverage
Shapewear, body shapers and stretch light control lace mesh sleeves at Marks and Spencer solve all your wardrobe dilemmas and create the perfect finish. Simply slip on under that dress you never thought you'd wear again and feel confident with the smooth comfortable fit. Full upper arm coverage allows you to step out in all your favourite sleeveless clothing without compromising on your style. Worn like a pull on bra top to fully cover the underarm area with three-quarter sleeves and cross over bodice.
Mesh Sleeve Armwear Sheer Chiffon Boleros & Shawls
---
Occasion Cape Dresses
Gina Bacconi Occasionwear
Many of Gina Bacconi occasion dresses are sleeveless so for those women who are not enamoured with their upper arms, this is a godsend! Sleeveless tops and dresses are back on the agenda and your going-out wardrobe looks set to get bigger. The sheerness of the fabric lends itself perfectly to occasion dressing by adding that extra touch of glamour. They work perfectly with lace dresses providing an invisible fit beneath whilst showing a glimpse of the arm through the mesh sleeves. A great alternative to wearing jackets and boleros.