Misty Blue Aqua Dress Jacket & Matching Accessories
While everyone else is basking in summer's vibrant florals add a sophisticated air of calm with this beautiful light blue outfit. With Wills and Kates's Big Day not far away this latest Jacques Vert collection is aptly named the Royal Affair. Designed to flatter the silhouette the tailored jacket fits perfectly over the Devore print dress.
---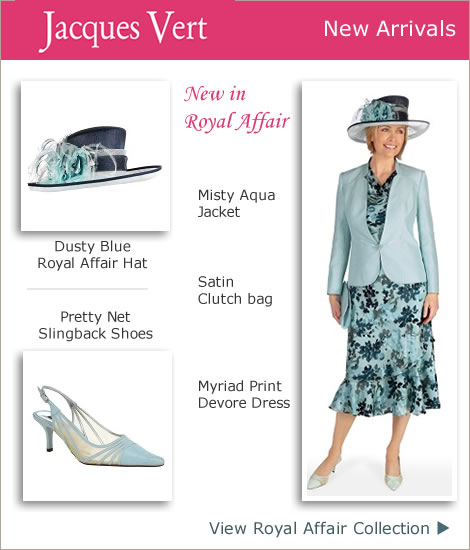 Wining Combination for all Occasions
Whether its a day at the races, a wedding or any other special day or evening occasion you'll find Jacques Vert's new range has an outfit to match the event. Attention to detail and design features makes each combination unique and a pleasure to wear. The Misty Aqua jacket has a luxurious feel to it with a delicate slub texture and satin lining.
Elegant One Button Jacket
The attractive stand up collar and open neck contrasts well with the dress beneath. It's finished with satin chevron detail and a triple rose ribbon with hook and eye fastening. Being able to buy the whole ensemble in one stunning colour gives you a sensational look to take you anywhere.
you may also like…
---
Soft Floaty Bias Cut Dress
The Myriad Print Silk Dress, shaped jacket, dusky blue hat, clutch bag & matching shoes make a great complete outfit. The soft water-colour hues will also team with other pieces to give a different look. The devore dress has a cowl neck top and iridescent beading on the hem. The style is totally feminine and flattering to the figure.