New Arrivals at Chesca in Sizes 14 – 24
Pretty florals are always a favourite at this time of year. New going out trends are full of sheer floaty fabrics and vibrant prints. Latest arrivals at Chesca have a certain feminine appeal that encapsulates a women's sense of style and flare for fashion. Their mix and match collection of tops, skirts, dresses and shrugs make up wonderful combination of occasion wear outfits. We've chosen a silky three piece bias cut skirt with matching jacket and cami.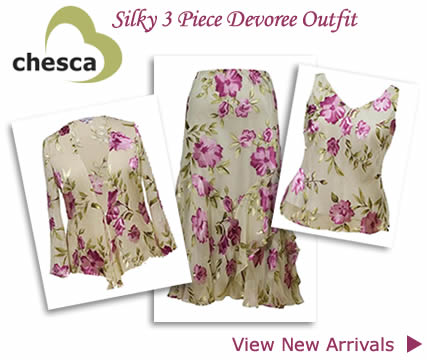 Opal Kew Devoree Skirt, Matching Waterfall Jacket & Top
The Opal Devoree skirt has flamboyant watercolour inspired floral print of pretty pink flowers on a neutral background. The bias cut skirt has layers of tiers and godets for a wonderful swishy movement The matching jacket has bracelet sleeves, one button fastening and fluted cuffs while the sleeveless silky cami features an elegant v-neck.
Chesca Silk Occasion Outfits
Chesca's love of silk shines throughout their beautiful range with silk devoree, silk with elastane, print and plain styles plus georgette and crepe de chine. Many of the garments have silk crafted into their design with knitwear, camisoles, jackets and blouses decorated with precious silk making each piece a work of art to wear to so many occasions day or night.
You may also like…