New Wedding Guest Outfits
Start the new year in style with event-ready dresses from L.K. Bennett. New collections include fabulous floral, polka dot and printed styles along with soft pastels and vivid hues. The wide range of dresses come in flattering shapes and designs to give a perfect look for any occasion. Designs to make you feel fabulous and feminine whether you are looking for something for the cocktail hour, a day at the races, a glamorous after-dark number or wedding guest outfit. Dressing for year-round events has never been easier with an inspired selection of dresses including fit and flare, shift and tailored styles.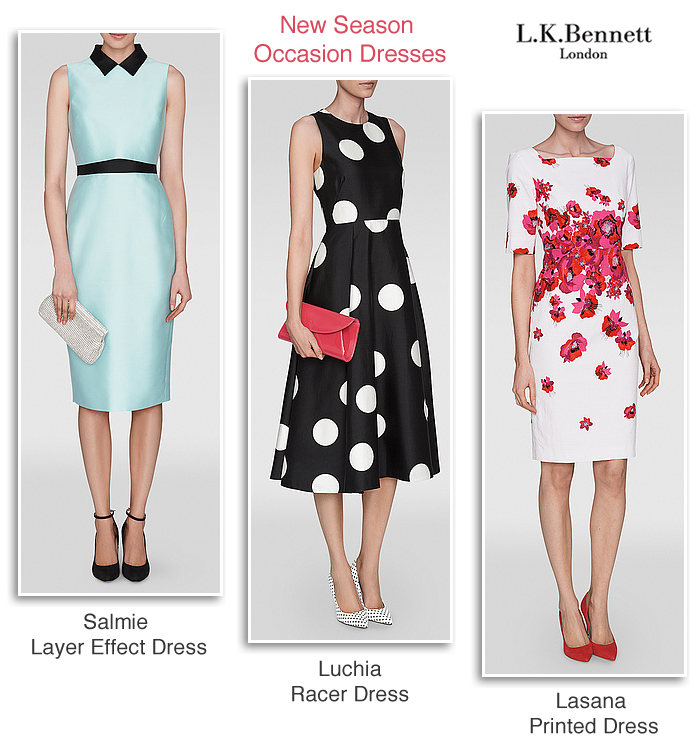 Fit and Flare Luchia Racer Polka Dot Dress
The Luchia Racer dress offers a real style statement with its unique interplay of colour, design and fine fabric. A classic look with a hint of vintage never goes out of style. Fashionable spots have been given a modern makeover and oversized lending a pop art feel. This chic polka dot dress is sleeveless and crafted from a silk blend in navy and cream. A shapely dress that requires minimal accessories, add a colour burst with bright box clutch or narrow red belt. Keep shoes neutral to lengthen the legs.
Lasana Pink Floral Printed Dress
The ever-popular Lasa dress as worn HRH The Duchess of Cambridge has been reworked for the new season. New arrival Lasana is a pink version with a very attractive poppy print on a crisp white background. Knee-length with arm friendly short sleeves and square high neckline. Its sleek cut and stretch cotton finish provide a slimming silhouette that just needs heels to fully showcase the look. One for the shortlist when it comes to choosing an outfit for a summer wedding or garden party.
Salmie Layer Effect Dress, Pastel Mint/Pink
An enduringly chic investment piece in soft pastel hues. The Salmie dress features figure-enhancing qualities in a gorgeous silk wool fabric. Available in mint green or marshmallow pink. A one-piece that gives the appearance of a two-piece outfit with clever upper layering. Finished with dramatic detailing creating focus and added contrast. A chic stripe runs along the back of the skirt with a black waistband and elegant high collar. This style sits just below the knee. Length 111cm.