Royal Blue Cocktail Dresses
To mark her engagement to Prince William, Kate Middleton wore a stunning royal blue cocktail dress. The announcement dress by one of Kate's favourite designers Daniella Issa Helayel was a success and the deep blue hue matched the sapphire of her ring perfectly. The wrap over style and detailed waistband made the most of her slender figure while the soft drape of the silk jersey fabric gave a refined look to suit the auspicious occasion.
You may also like these Cocktail Dresses
Phase Eight Dresses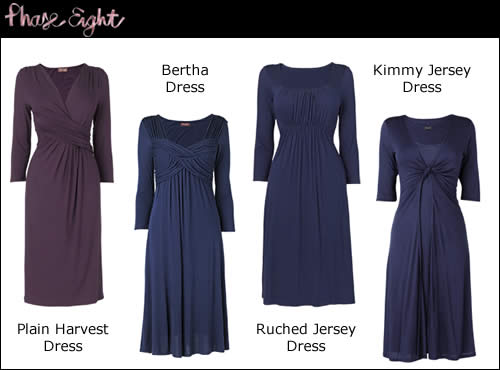 Jersey Dresses
Add some regal colour of your own to your wardrobe with these beautiful long and 3/4 sleeve jersey dresses. The rich shades of blue, elegant v-neck cross over styles and knee length dresses will see you through daytime meetings and formal occasions to evening cocktails and weddings.
You can never go wrong when choosing blue as the main colour to an outfit especially if it's to a formal event. The sleek lines of the classic jersey dress holds a special place in a wardrobe that will serve you well on many occasions.
You may also like these Jersey Dresses…
---
Modern, Feminine and Elegant
Today's styles combine femininity and elegance and add a modern twist to the look bringing the whole outfit bang up to date.

Royal Wedding
With the announcement of a forthcoming wedding in the spring or summer, wedding fever will soon be upon us. The happy event will keep us guessing on who will design the dress and may even encourage other couples to tie the knot.
The fashion world will welcome another iconic figure to showcase their best designs and we will love watching the enviable designer outfits on display.
Cocktail Dresses
Our collection of royal blue dresses, maxi and wrap over cocktail dresses may not be an exclusive Issa London label but they are special. They can be worn alone or with fashionable faux fur stoles, jackets, waterfall cardigans and silk cover ups.
The Long Kate Dress from Phase Eight is an attractive evening dress with pleated detail to the front and shoe string straps. To keep the chill off team a strapless dress with a matching bolero, silk cropped jacket or wear the latest fashion in wrap around capes.
The featured Cocktail Dresses are available in sizes 8, 10, 12, 14, 16, 18 further details below:
Long Kate Dress: Maxi style, Narrow straps, Pleated detail to front, Twilight Blue, Fully lined 100% Polyester, Fabric 76% Polyester 25% Cotton 3% Spandex.
Plain Harvest Dress: Wrap over bodice in Plum or Black, above the knee, 95% viscose 5% elastane.
Bertha Dress: Pleated bodice detail, Long Sleeves, length on the knee, Twilight Blue or Plum, Fully lined Fabric 96% Viscose 4% Elastane.
Ruched Jersey Dress: Twilight Blue, Long Sleeves, fully lined 100% Polyester, fabric 95% Nylon 5% Elastane, Length on the knee.
Kimmy Jersey Dress: Colour Twilight Blue, Fabric 96% Polyester 4% Elastane, Length below the knee.
Dita Knot Dress: Colour Royal blue, Fabric 96% Viscose 4% Elastane, Long Sleeves