This chic and stylish short sleeved blouse by Jaeger is perfect for all occasions. The luxurious feel of silk against the skin and the comfortable loose fit is ideal for summertime. The light texture of the fabric and muted tones will easily partner skirts and trousers.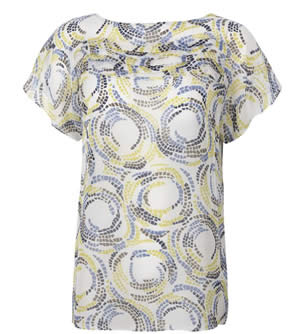 View more blouses
Mix and matching different items with this pretty pastel top will extend your wardrobe further and set off any outfit. It will look equally attractive worn under a suit or alone with a skirt.
You may also like these…
This summery blouse has a mosaic print exclusive to Jaegar. This luxury British brand designs clothes to a very high standard with unique styling as shown with this 100% silk blouse. You will find Jaegar at their own Jaeger online store and collections at some department stores.https://www.motherofthebrideoutfits.org.uk/jaeger-womenswear-collection/
Whether you are at a daytime function or evening do, you'll look great in this versatile piece of clothing. It has fluted short sleeves, pleated front and round neck.
Style: Smart occasionwear
Type: Short sleeved blouse
Material: 100% silk
Colour: Ivory Mosaic Print
Brand: Jaegar
Length: 59cm