Jacques Vert AW Collection
Jacques Vert autumn winter range is up and running with fabulous new looks under their new arrivals section. It's here you'll discover the delights of the season with glamorous statement pieces, complete wedding outfits, special occasion separates plus a wonderful range of accessories.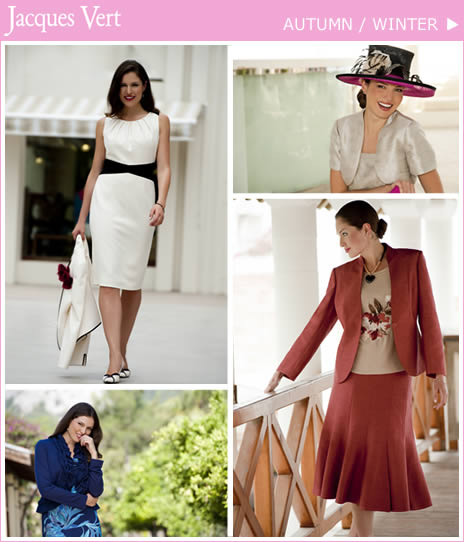 Dresses and Matching Boleros
Shopping at Jacques Vert is a delight whatever the season best of all, seasonal colour themes and special collections are available throughout the year. The Holiday Shop and English Rose section is perfect for warmer climes with chiffon and floral Devore tops, layered bias cut dresses, waterfall overblouses with camisole and petal pink and damson satin trim jackets. Fit and flare skirts, bolero jackets, shawls and pleated tops in prints and abstract designs also catch the eye.
Dress and Jacket Wedding Outfits
Spring and Summer Occasion Dresses
As spring summer outfits make way for the new season it doesn't mean colours have to be dull. JV's On the Red Carpet and Think Pink collection shows how vibrant pink, red, cream and black work so well together. One click shopping straight to wedding outfits will be a saviour too for women looking for some inspiration on what to wear to a wedding.
Mother of the bride or groom, wedding guests and the bride herself can find a gorgeous collection of outfits, hats and fascinators in an array of hues and styles.
Women who appreciate feminine elegant occasionwear will enjoy the new season's clothing. Jacques Vert's effortless style and smart tailoring has been round since 1972 and continues to be the home for the discerning woman to shop.
Now, for the first time the size range has been extended to size 24 which is good news for plus size ladies looking for special going-out clothes. Tiered dresses and flowing skirts with elasticised waistbands streamline the figure perfectly and also give a comfortable fit.
Looking through the new collections you'll soon discover rich autumnal prints and rustic shades of yellow/orange to gold, chocolate and bronze. New England in the Fall gives you embroidered tops, shimmer jackets, frill neck sweaters, edge to edge long cardigans, smart stretch jeans and floral bias cut skirts.
For a special occasion coat Jacques Vert Long Palomino Luxury cashmere coat is a must. Autumn and winter is a time for a calm palette of neutrals to take over with both long and short winter coats taking on a warm beige glow. The pale gold camel coat with detachable faux fur collar is a real show stopper.
The latest trend also includes military style pea coats, funnel neck coats and quilted parkas. A great idea for the changing seasons is the Reversible weekend coat which gives you two looks in one. The soft wool mix has one black side and one grey with contrast shawl collar and turnback cuffs.
Autumn Winter Collections
Autumn winter clothing is not all about warm coats, rainwear and knitwear it is one of the busiest time on the social calendar. Christmas and New Year Eve parties plus Family get togethers need the maximum party outfit. Hot looks with plenty of glamour is what is called for with frills, sequins and beading detail thrown in for good measure.
Jacques Vert sequin pink crochet cardigan makes an ideal cover up to many dresses especially the Dahlia Devore dress with sash, cowl neck and flared skirt.