Monochrome Collection
Take occasion dressing to a whole new level of sophistication with the monochrome range from Jacques Vert. Classically stylish the Roman Holiday spring summer 2015 collection features a timeless colour palette of black and cream that always look elegant and minimal. The scalloped dress and jacket combination along with coordinating accessories offer a complete wedding ensemble that is a perfect modern Mother of the Bride or Groom outfit.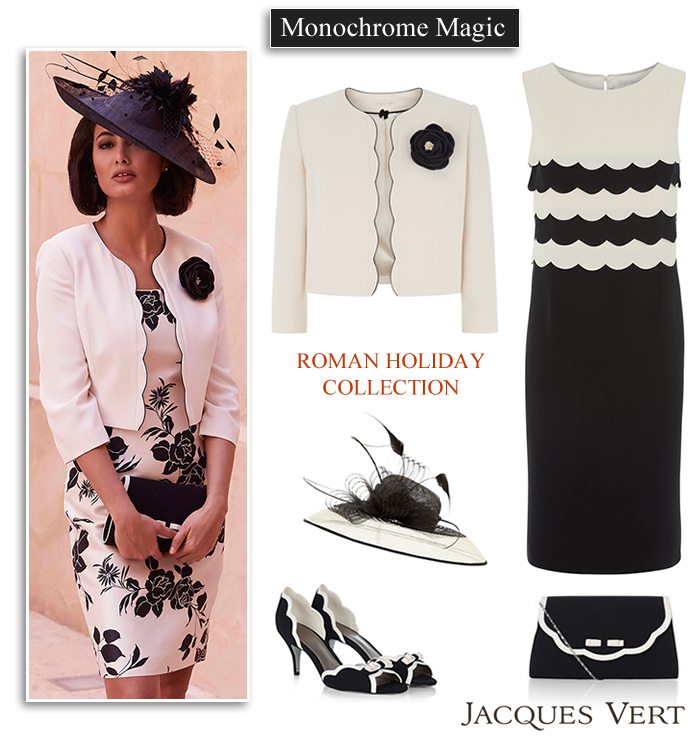 Dress and Jacket Outfits
A chic short cut to a glamorous look that works beautifully on its own, the flattering shift dress features a scalloped edge layered in cream and black. Other details include luxury satin binding at the neckline and arms and a knee length finish at 104cm. Looks equally as gorgeous worn as a two piece dress suit. Layer with the matching cream short jacket featuring black scallop edge detailing, 3/4 sleeves and detachable corsage. This elegant cover-up piece has a collarless design with edge to edge front that will partner many other occasion dresses.
Occasion Dresses with Matching Jacket, Cape or Coat
Shoes and Matching Bag
Dress to impress with a completely coordinating look that is sure to turn heads. The latest monochrome collection has stylish picks for all your occasions, from weddings to garden parties to race day events and evening soirees. Carry all your essentials in the black crepe clutch bag with cream trim and match with the peep toe shoes with pretty bow.
Floral Print Shift Dress
A sculptural, figure flattering shift dress with an exclusive black floral print is another statement piece from the collection. Crafted in a luxury shantung fabric with feminine tulips sleeves and round neckline. For bold contrast layer with the tailored piped black jacket with one button, shaped seam detail and satin trims. The monochrome range also boasts eye-catching designs with lace and pearl embellishments for a flawless cocktail option and dressy trouser suits. Jacques Verts's wide leg evening trousers in beautiful flowing chiffon look exquisite with a jersey lace top.
Occasion Hats
Two Tone Large Wide Brim Hats
For a fabulous headpiece there's plenty of choice at Jacques Vert including pill box hats, feather cluster discs, flower loop fascinators and wide brim double bow hats. Keeping with the monochrome theme the open weave hat comes in a delightful two tone cream and black with pleated mesh loops and feather and quill detailing.