With the deep rich tones of the winter wardrobe long past us, it's all change as we herald in the new season fashion. It is a busy time for weddings and outdoor summer events and trying to find the right outfit can be quite a daunting experience.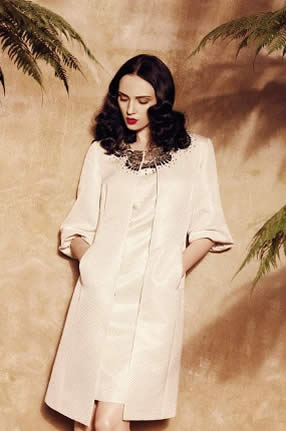 No Longer Available
This year's summer essentials come in serene pastels, sugary shades and barely there nude outfits. Best of all as the fashion world celebrates the chic style of the clothes and style of Princess Grace of Monaco we can embrace the return of ladylike elegance.
Occasion dress coats with dresses to match …
Understated pieces in nude tones that ooze elegance are the key to wearing this year's look successfully. Look out for related colours that are all part of the minimalist summer style. You'll soon discover how easily these natural shades blend with other shades to make up many outfits.
Try oyster with navy, champagne and chocolate, vanilla and cream or ivory and black for stunning combinations. Beige, skin tone, biscuit, taupe, camel and mink also fall in the same category as nude and make a great basis for a variety of combinations to extend your wardrobe. Nude and its pale family counterparts are surprisingly multi-purpose when it comes to dressing up.
View Two Piece Wedding Outfits
For a one colour two piece suit, nude shades work well with black accessories for a polished finish. A dress with matching dress coat or long line jacket in light neutral colours leaves it open for you to add a splash of colour in so many ways.
We found this wonderful two piece dress and coat outfit at Windsmoor along with other stylish outfits for special occasions. Their exclusive collection in barely there shades are bang on trend with the latest fashion look. You can find the inspiration to put together a stunning outfit in nude and natural tones from the must have, new-in and style guide.
The lustrous fabric and divinely delicate details on the dress and matching coat is the epitome of timeless elegance. It will make a perfect outfit for a wedding or extra special occasion where only the best will do. Although available to buy separately the two piece outfit really has to be worn together to achieve the all important wow factor. Both pieces are designed to flatter the figure with princess seams and gentle tailoring.
Nude dresses and outfits like this embroidered shift dress and coat are easy to accessorise. To complete the look wear with a mid heel or kitten heel shoe in patent black with a dressy wide brim hat in black and ivory.
The edge to edge ivory dress coat has the latest bubble cuffs straight off the catwalk and chic tailoring for effortless glamour. The same intricate ribbon detailing found on the shift dress adorns the neckline. The sublime alliance of the ivory wool jacquard fabric with metallic gold thread adds a touch of shimmer for daytime or evening glitz.
Ivory Embroidered Dress
Ribbon detail and beading to Neckline
Length 96 cms ( 37.5 inches)
Fabric 52% Wool 39% Acetate 15% Viscose 4% Polyester
Fully Lined in 100% Polyester
Black zip and vent
Dry Clean Only
Sizes 10 12 14 16 18 20 22 24
Ivory Embroidered Dress Coat
Ribbon detail and beading to Neckline
Length 101 cms ( 40 inches)
Bubble Cuffs
Hook and Eye Fastening
Hidden Pockets
Fabric 52% Wool 39% Acetate 15% Viscose 4% Polyester
Fully Lined in 100% Polyester
Dry Clean Only
Sizes 10 12 14 16 18 20 22 24