Celina Dress
As eye-catching as can be, the antique silver hand sewn beads create a truly captivating pattern on the Celina silk dress. Carefully crafted for Hobbs Invitation collection and one that is sure to turn heads. Shimmering embellishments make this piece a striking number to wear to gala events and festive occasions. A sleeveless v-neck style available in black and ivory oyster.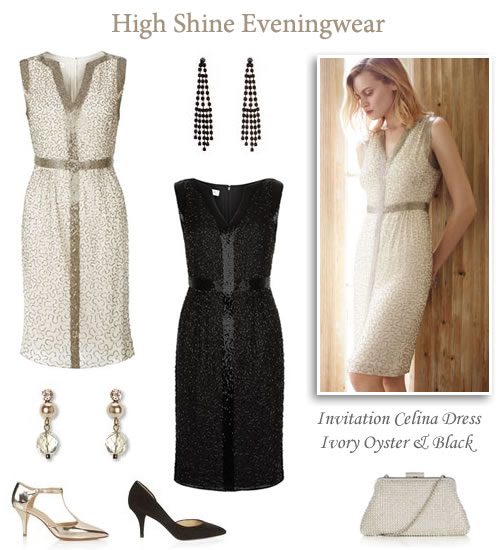 Hobbs Party Wear
Important occasions calls for an unforgettable outfit that will make a lasting impression. Hobbs party wear collection does just that with a range of beautiful dresses, jackets and finishing touches. Exquisite beadwork, lace and sequins add a look of luxury and alluring appeal. Put together a timeless two piece outfit and sculpt your silhouette in a little black dress and chic boxy jacket. Effortlessly individual pieces can easily extend your mix and match party wardrobe.
High Shine Accessories
Make those festive occasions a little bit more special with sparkling jewellery, clutch bags and ultra chic shoes. Soft high shine leather slingbacks lends a refined finish for evening glamour while the classic court makes a fashion statement for day to night events. Complete the look with a covetable handbag like the silver Natasha bag with strap and black gloss teardrop earrings.
The Eveningwear Boutique
Discover the season's hottest trends and the latest looks from a range of inspired choices for autumn and winter. Hobbs ultimate guide holds the key to looking gorgeous whatever the occasion. A blend of classic luxury and modern influences accentuates the positive for understated glamour. The eveningwear boutique is home to entrance-making gowns, deluxe tuxes and stunning accessories. Style notes uncover showpiece coats, sharp office tailoring and newest arrivals along with the new Collection1 created in collaboration with Historic Royal Palaces.