Shift Dress and Matching Jacket
Prepare to turn heads with another creation from Hobbs. The Invitation Deborah red dress and matching jacket are undeniably glamorous. The deco-inspired duo captures the mood change of the season with its rich red-garnet hue and luxurious silk wool fabric. Statement folds and detailing add a feminine touch to the tailored styling.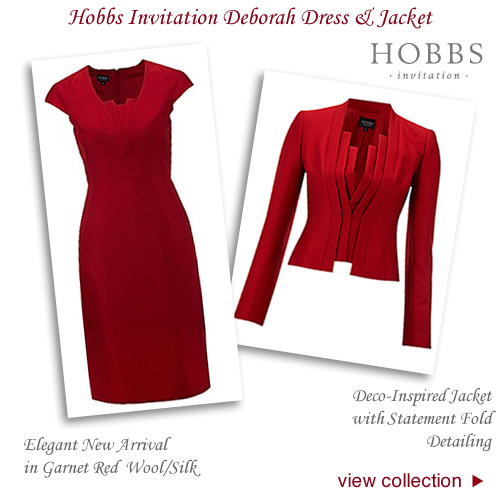 ---
Elegant day and Evening Wear
A classic occasion outfit ideal for autumn or winter, this two piece set adds drama with its vibrant hue. The smooth lines of the shift dress is set off perfectly with the jacket making a stunning combination. Chic daytime or evening elegance is easily achieved with winning results.
Hobbs Occasion Jackets
For the perfect cover up the short Deborah jacket offers the finishing touches for a sharp tailored silhouette. Part of the enviable Invitation collection, features include a square neckline, contemporary fold detail at the placket and concealed centre fastening. Material: 55% wool, 45% silk.
New Hobbs Arrivals
For an instant wardrobe inspiration take a look at the latest arrivals from Hobbs. Dedicated to designing beautiful pieces and complete outfits for any special event. You'll find a modern and finely crafted range of clothing to make you look and feel fabulous.
Hobbs Invitation Collection
The Hobbs Invitation collection has become synonymous with high quality fashionable pieces. Highlights include no fuss sophisticated styles for formal functions and stand-out wedding attire that is elegant and flattering. There'll be no need to opt for pastel or washed out shades with such a fine display of eye-catching colours. Jewel plum tones, purple, malachite-green, ruby red and monochrome prints in black and white or softer navy and ivory make up the new occasionwear range.