A fabulous British brand that adds a modern twist to smart tailoring and everyday wear. Floral vibrant prints and pattern fabrics to graphic spots, stripes and bows make up statement pieces for any special event. This season's must-have items and latest looks will have you stepping out in style.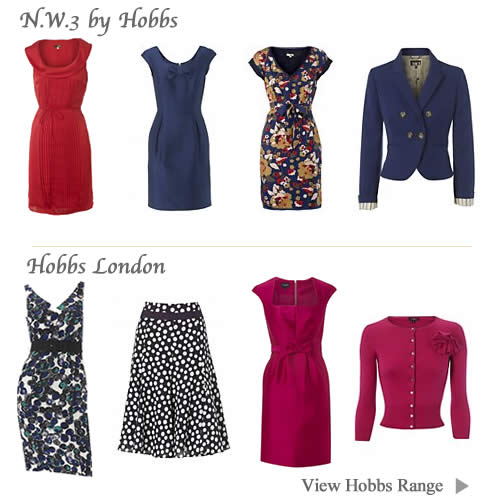 Ladies looking for a choice of classic clothing combined with stylish up to minute designs will love Hobbs silk dresses and fashionable separates. Online and instore you will soon discover quality craftsmanship in their selection of women's clothing and footwear. You can shop for linen, silk, smart daywear, workwear, holiday and special occasions.
NW3 arrives at Hobbs
Autumn 2009 see the arrival of NW3 and with it a collection of quality garments with a contemporary edge. Described as being a distinctive and playful range for adding some girly glamour. This includes well cut blazers, short flippy skirts and dresses to frill blouses, pleat tops and cropped trousers. In addition to wardrobe staples, new in footwear and quirky accessories add a touch of originality to your style.
Hobbs Clothing
For shoppers who prefer a more leisurely experience with online ordering can browse Hobbs own website. Here you'll find all the help you need from style and size guides to trends and new arrivals. Concession outlets also stock a great selection of Hobbs dresses, skirts, coats, jackets, tops, trousers, and knitwear, shoes plus bags and accessories.
Limited Edition at Hobbs
This is an inspirational collection of luxury outfits with the main attention given to the fine detail and finish. The hand crafted collection is tailored around both Town and Country lifestyles. Shop for chic shift dresses, linen pencil skirts and feminine suits at Hobbs exclusive Limited collection and add another dimension to your wardrobe.