Ladies Occasion Wide Brim Hats & Fascinators
Mother of the Bride Hats and Fascinators
Complete your Mother of the Bride, Mother of the Groom or Grandmother of the Bride outfit with an exquisite wide-brimmed hat. This delightful collection offers elaborate millinery, designer shapes and an array of colours for every event. The comprehensive range of ladies hats reflects the very best of the designer's creativity. You'll also find quality fabric, silk, organza, feathers and bow detail hats in a variety of styles for wedding guests too. We hope you like our Mother of the Bride Hats selection and fascinators.
Hats and Fascinators under £50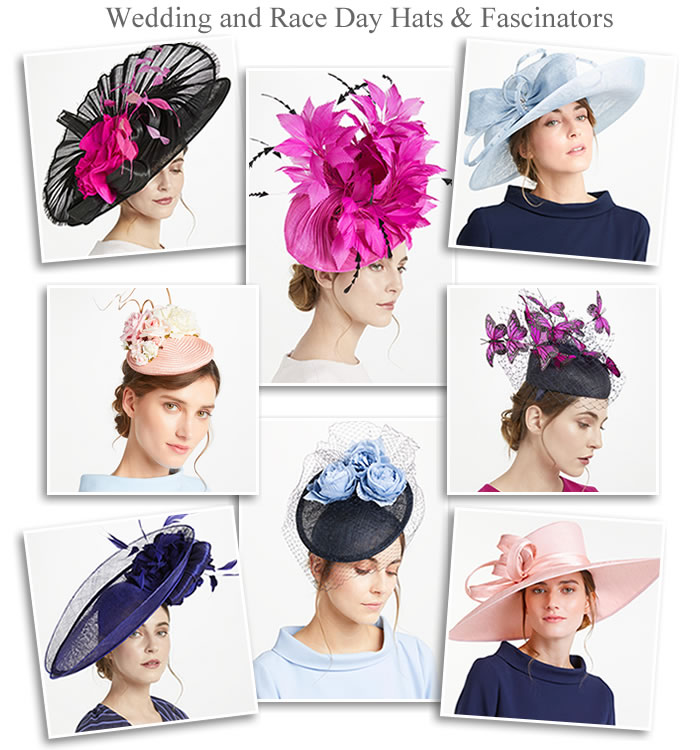 John Lewis Royal Ascot Hats and Fascinators
Colour match your occasion outfit with a designer hat or fascinator in navy and ivory, blush pink, pastel blue, black and silver. Features include elaborate fan styles with wide upturn disc, side up and down large brim designs, flower and feather quill spray fascinators, pillbox with veil, swirl hats and small bow hairbands. View the latest Mother of the Bride, wedding occasion and race day designer hats and fascinators at John Lewis.
---
Occasion Hats, Hatinators & Fascinators
---
Feather Flower Fascinators
A fascinator is another popular choice of occasion headpiece that is worn as an alternative to a hat. Styles include Flower, beaded and pearl netted headbands and tiaras to fancy feather fascinators. Hats and fascinators vary greatly in design allowing them to be used in a variety of ways. A Day at the Races, Ascot, Wedding and Party outfits is easily dressed up with easy to wear headwear. Discover complete wedding outfits including hats and matching bags at Gina Bacconi, Chesca and Jacques Vert.
Pill Box Hats and Hatinators
Enjoy the beautiful collection of ladies summer and winter occasion headpieces in an array of styles and shades. You'll find popular wide brim hats, pillbox hats, disc headpieces, cloche hats, cocktail hats, floppy hats and discs plus netted feather fascinators, gem headbands and tiaras. A wedding is still a favourite time for ladies to wear a hat although recent times has seen the fascinator grow in popularity. Fascinators can vary greatly in design from modestly designed hairbands to flamboyant creations such as the hatinator that looks more like a small hat.
Ascot Race Day Hats
Distinctive handcrafted headwear and tailor-made pieces from top designers have captured a high profile following. Highly unique and contemporary styles from Gina Foster, Jane Bailey, Jane Taylor, William Chambers, Jill Courtemanche, Nerida Fraiman. Sophie Beale, Rosie Olivia, Philip Treacy, Dion, Vivien Sheriff, Edwina Ibbotson, Jess Collett, Laura Apsit Livens, Noel Stewart, Fiona Mangan. Justine Bradley-Hill, Olivia Roat offer a dramatic finish to any occasion outfit. These and more can be found at London based Lovehats.
Designer Hats
Celebrities and members of the royal family have been seen wearing some breathtaking designs from the highly acclaimed milliner Jane Taylor. These include Countess of Wessex, Zara Phillips, the Grand Duchess of Luxembourg, Princess Marie of the Netherlands, Crown Princess Mary of Denmark and the Duchess of Cambridge.
---