Mother of the Bride Almond and Cream Outfits
Guaranteed to flatter all skin tones, a beautiful dress collection in ivory, cream and beige from Gina Bacconi. Perfect for the wedding season ahead and everything a Mother of the Bride needs to look and feel fabulous. Feminine fashion in soft natural tones include a chic moss crepe dress with flower lace top, two tone pencil dresses plus beaded and tiered styles in champagne and antique gold.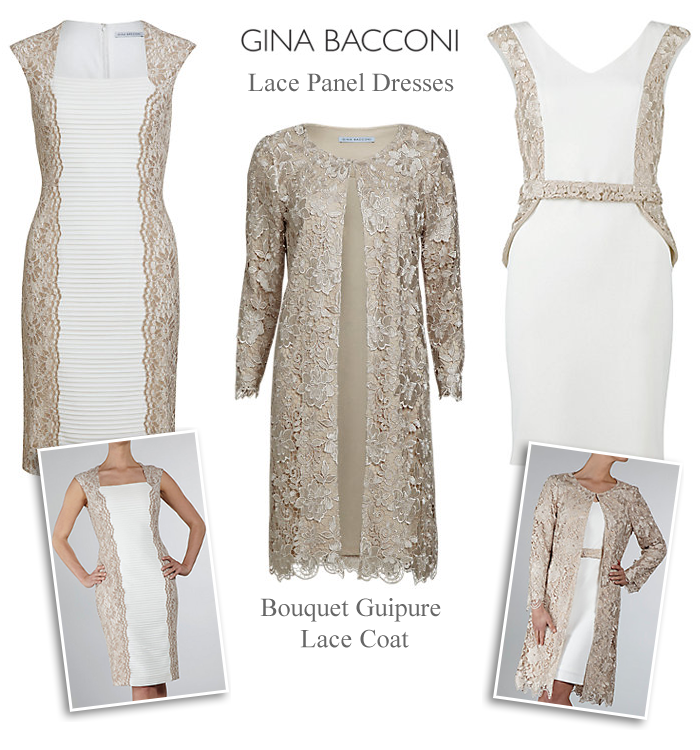 Lace Panel Slimming Dresses
Look incredible in the Gina Bacconi lace and jersey dress. Made with quality fabric and cut to flatter with a ripple pleated front and stretch lacy sides. Features a pull on style with square neckline. Length 41 in/105cm. Radiate after dark glamour with the chic lace panel dress and its swooping v-neckline and low back. Bouquet lace detail to the side and waist had that extra wow factor. Team with heels and dainty clutch for a sophisticated finish. Work a modern look with panel detailing to achieve a slimming effect. Illusion dresses are perfect for those very special occasions.
Bouquet Guipure Lace Coat
The perfect lightweight cover up for a summer two piece outfit simply slip over a smart dress for church weddings and outdoor events. A fully lined feathery soft textured occasion coat made of luxurious guipure lace with a swirling floral pattern. Features a round neckline, long sleeves and open front. Another elegant layering piece is the double chiffon shawl that features dropped armholes for a relaxed fit. Ideal to gently drape over the shoulders. A glamorous look for the evening worn over cocktail dresses in contrasting colours.