Mother of the Bride wears a Sky Blue Crepe Coat Dress
Today's royal occasion and arrival of Carol Middleton wearing an ever so elegant coat dress has inspired us to find similar Mother of of Bride outfits and dresses in shimmering hues of light blue and grey. Understated and simplistic was the order of the day as both mother and daughter came out looking stunning. The dress and matching jacket, coat dresses and skirt suits were a popular choice by many. We love these soft grey Gina Bacconi and Frank Usher Mother of the Bride Outfits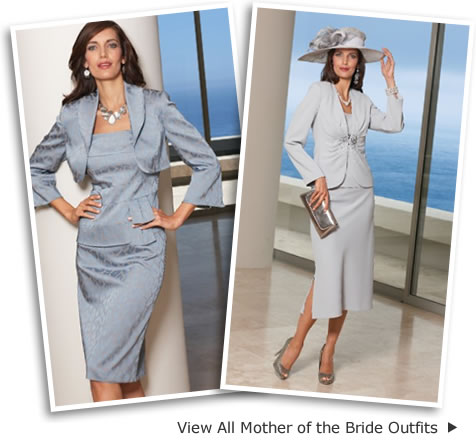 Frank Usher Jacquard Bodice, Bolero and Matching Skirt
This fabulous ensemble from Frank Usher comes in a ice blue and taupe stretch satin fabric. The three piece outfit is available separately but when worn together make a stunning Mother of the Bride outfit. The simple cut, edge to edge bolero and fluted slit cuffs add to its charm as does the animal print jacquard pencil skirt. Take the short jacket off to reveal a sleeveless bodice with sunburst pleating, gathering tab detail and asymmetric hem.
Gina Bacconi Moss Crepe Jacket, Skirt, Top & Flower Trim Hat
Classic tailoring doesn't get better than this day to evening outfit from Gina Bacconi. The soft shade of grey and distinctive detailing transforms this three piece suit into a winning combination worthy of any special occasion. The silver grey jacket has pleats and a sprinkle of sequins to the front with a cornelli braid trim clasp. The moss crepe bias cut skirt has a stretch waist for added comfort and a side zip.
you may also like…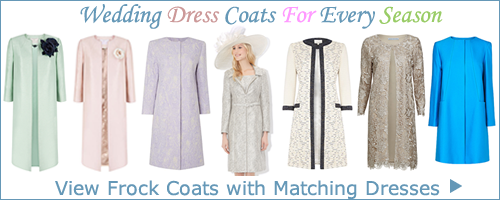 ---
Royal Wedding Hats Crown the Day
As each member of the Royal Wedding Party made their appearance a wonderful array of colour and styles soon emerged. To the delight of the crowd and all watching at home the Royal Wedding was a day of full fabulous gowns, hats and fascinators from the very best designers. Trendy and classical dressers of all ages brought a mix of unique styles to the auspicious event of Prince William & Catherine's wedding.