View the fabulous clothing range from Fenn Wright Manson and you'll soon discover the season's latest trends. Here you will find the Boulevard Collection with an array of floaty dresses, structured two-piece outfits, silk cropped jackets encrusted with black and smoke coloured gems plus subtle shimmery materials for elegant eveningwear.
Silk Dresses you may also like
It's hard to pick a favourite but this double Face Silk Jewelled Dress and matching cropped Jacket looks so sophisticated and is perfect for autumn and winter special occasion dressing.
you may also like…
The Jewelled occasionwear jacket matches perfectly with the silk embroidered dress. The attention to detail is what makes this cover up so special with its gem encrusted collar adding a touch of glamour to any event.
Silk Dress and Matching Jacket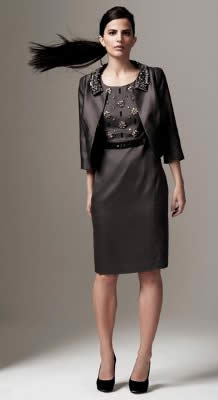 Cropped Silk Jacket
100% Double face silk.
Dry clean only.
Sizes 8, 10, 12, 14, 16, 18
The classic design of the silk dress makes this a winner when choosing quality pieces to update your wardrobe. Buy with the jacket in the same material and you have a chic outfit that will see you through from day to evening in true style. Special features include a jewelled front section and waist detail.
Jewelled Front Silk Dress
On the Knee
100% Double face silk.
Detail to waist
Flattering Neckline
Dry clean only.
Sizes 8, 10, 12, 14, 16, 18