Flower Cotton Sateen Dress
Add some flower power to your going out wardrobe with this vibrant pink floral shift dress. Alexon occasion wear outfits are alive with colour this season and feature figure flattering qualities with plenty of panache. Finished in a beautiful stretch sateen fabric with pleats and gathers in all the right places makes this a favourite wedding choice. Other details include round neck, cross-over front, waist shaping and cap sleeves plus a full lining for a smoother silhouette. Length 104cm.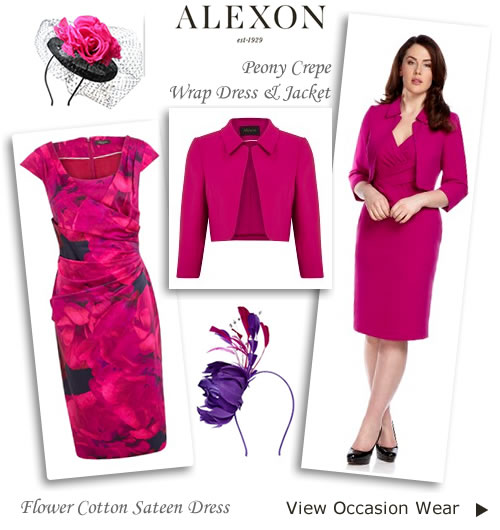 ---
Peony Crepe Jacket Cover-up
For an elegant special occasion cover-up complete an outfit with the peony cropped jacket. A timeless look featuring a boxy edge to edge style, 3/4 sleeves, stylish collar and neat shoulder pads for added shape. Perfect worn with many summer dresses but particular with the crepe wrap dress in the same dramatic shade.
Deep Pink Wrap Dress
A must have for all your summer events. A sleeveless open neck design with body enhancing pleat detailing is a stunning combination. Elegantly falling to just below the knee and fitted with a centre back concealed zip, back vent and fully lined for a sophisticated finish.
More stylish dresses…
---
---
Mother of the Bride Two Piece Outfits
If you're looking for a trendy two piece you'll find easy separates to mix and match along with luxe fabrics at Alexon. Feminine tailoring to streamline your figure and enviable looks fit for any event. Classic shift dresses and matching jackets the ideal duo for formal affairs. For a modern Mother of the Bride day time outfit there's opulent prints with a hint of shimmer and shine plus contour hugging gowns for the evening reception.
Race Day Hats & Fascinators
Stand out in the crowd with the latest collection of knockout hairbands and hats. Gorgeous netted disc fascinators are dainty creations perfect for summer weddings and a day at the races. Lovely pill box headbands and purple jewel encrusted satin headbands are beautiful finishing touches. Flamboyant wide brim hats are on hand too which are sure to create more than a few admiring glances.