Faux Fur Coats, Occasion Outerwear
Faux Fur Coats and Jackets
The faux fur makes a comeback this season adding a touch of class to the winter wardrobe. The exquisite cut, design and superior fabric ooze sophistication. Cashmere wool camel coats edged with faux fur make the ultimate choice for a special occasion coat. Many styles come with detachable faux fur collars giving two looks in one.
View Mother of the Bride Wedding Occasion Coats
New Season Winter Coats and Jackets under £100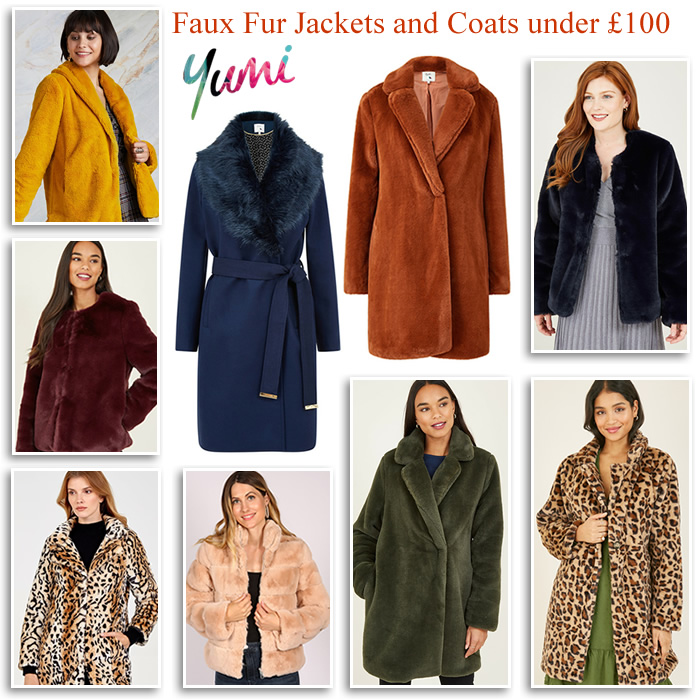 Occasion Coats under £100 | Yumi Faux Fur Jackets
Your partywear deserves the perfect layer, so choose your favourite style in luxuriously soft fabrics. For a relaxed silhouette, there are collarless necklines and zipped front jackets. Longline jackets and short coats are so versatile and look great paired with a party dress. New-season layering includes on-trend leopard prints to beat the chill and will match all your going-out outfits. But for the ultimate occasion coat, there is the Yumi navy wrap coat with a fluffy faux-fur collar and tie belt.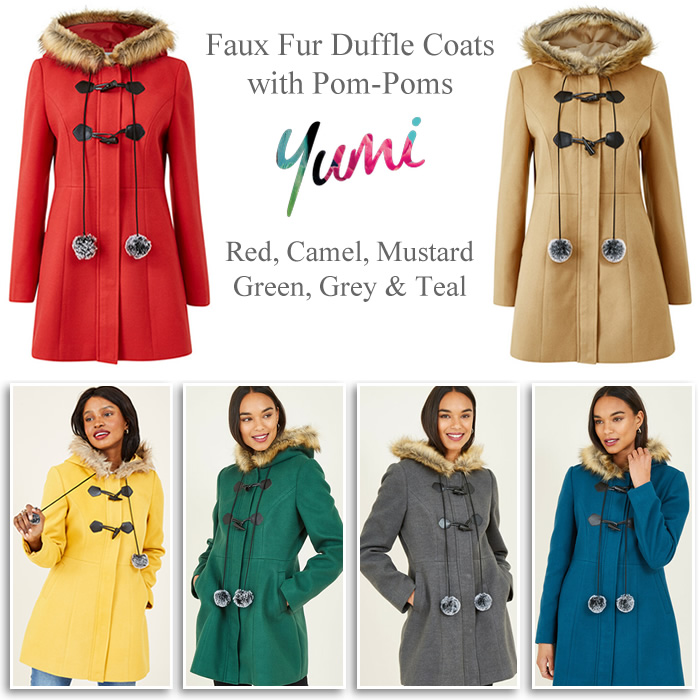 Faux Fur Duffle Coats with Pom Poms
Yumi new-season adult duffle coats in red, camel, mustard, green, grey and teal. Supersoft coats with a mid-length shape feature fluffy pom poms and faux fur trim hood, duffle fastenings and pockets on the side.
Evening Jackets
Whether it's for that extra warmth offered by a faux fur collar or a cosy cover-up, there's a style for any event. Statement full-length wool coats in eye-catching colours may add drama but it's the faux fur that adds the luxe look. The party season is a time to shine so what better way than arriving in style. Elevate your outerwear with a faux fur wide collar coat with a waist-cinching tie belt. Drape over evening dresses and make sure you grab the limelight.
Italian Wool Winter Coats
Types of winter coats can be crafted in luxurious Italian wool with fur-trimmed collar and cuffs or styled completely in faux fur fabric. Fashionable leopard prints, two-tone and colour block styles add a modern edge to covering up. Wearing faux fur makes every event special. Detachable collars extend the wearability of an overcoat allowing them to be worn as the weather turns milder. Faux fur stoles and wraps are made for the party season and are a timeless cover-up.
Coats with Faux Fur Collar
When it comes to dressing down for the weekend there's still room for a touch of faux fur. Padded large collar quilted jackets and faux leather short coats offer unique styling with contrasting textures. Easy to care for faux leather and soft faux fur fabric come with a high-quality pile. A stunning collection includes loose fit swing coats, fitted full-length styles, faux fur biker jackets and animal print faux fur coats.