Create a little drama in your wardrobe with a stunning Sequin Evening Dress. You'll find this gorgeous bead & sequin dress with matching bolero in their dedicated Mother of the Bride or Groom Collection. Buying outfits for a wedding is made easier when you can browse both special occasionwear for the day along with glam eveningwear, shoes, hats and accessories all in one place.
Sequin Evening Dress Outfits
Time will soon fly and before you know it you will soon be shopping for wedding anniversary gifts.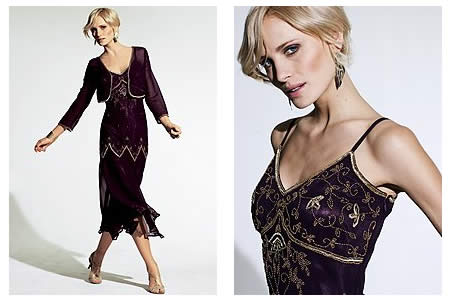 If you love dressing up this mulberry coloured evening dress will help you do it in style. Glamorous events are the perfect time to wear that red carpet dress that oozes flair and elegance. The mulberry shade looks sophisticated and makes a refreshing change to traditional black dresses usually chosen for the evening.
The stunning bead and sequin detail adds an extra sparkle that will most certainly steal the show. You can dare to bare and show the shoestring straps or chose to keep the beautiful bolero on to cover up your arms. Whatever way you wear this 2 piece outfit you'll feel a million dollars.
Mulberry Evening Dress
Dry clean
Sequin & Bead detail
Colour: Mulberry
Polyester
Lining: Polyester
Length approx. 122 cm (48 ins)
Sizes: 10 12 14 16 18 20 22
Fully lined in satin adds quality and the drape of the dress has enough swish for freedom of movement as you walk. The cut and design compliments the figure perfectly all that's needed now is a pair of sparkly strappy sandals and diamante clutch bag to complete the look. Also available at Kaleidoscope.