Occasionwear is not all about dresses and skirts. A dressy trouser suit looks just as stunning especially when worn with matching pieces. The champagne colour is perfect for spring-summer events and looks lovely with strappy sandals. The trousers are fully lined and have an elasticated waist for added comfort.
Elastic Waist Trousers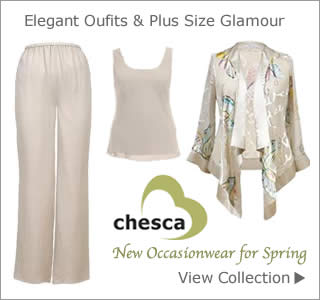 Made from 100% silk makes this fluid lightweight suit ideal for holidays. It packs well with the minimum of creasing and gives you plenty of mix and match options for a different look each time. Try wearing with a simple matching silk cami top and print devoree jacket with satin border.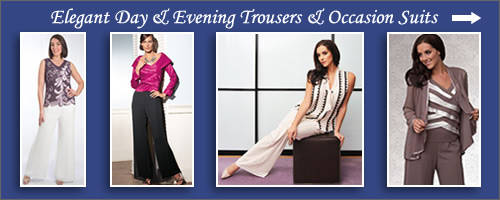 more dressy trousers …
---
The floaty silk jacket has a pretty turquoise and pink butterfly print over a champagne base that works well with so many combinations. Curvy women will love the flattering fit and shimmering material at Chesca. Plus sizes available 14,16,18, 20, 22, 24