Summer Floral Dresses in Sizes 10 to 22.
Florals and look at me prints are never far away in today's occasionwear wardrobe. Eastex summer arrivals are spot on trend with petal power at the forefront of their latest collection. Summer weddings and daytime special events are perfect for trying out colour combos in a medley of prints. One of our favourites is the Rose Print Dress featuring a feminine floral design, flattering neckline and side zip fastening in size 10 to 22.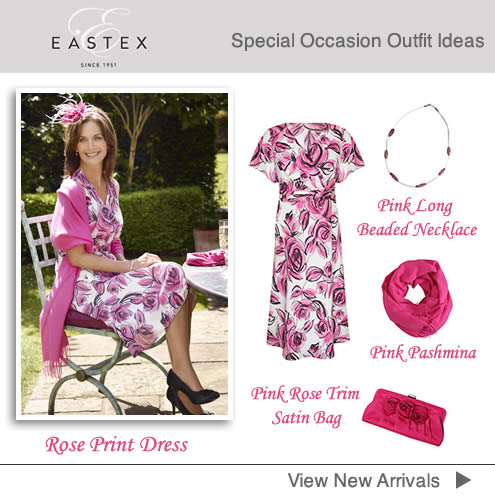 ---
New Arrivals at Eastex
In addition to bursts of flower print dresses and skirts new arrivals also include plain colour two piece jacket and skirt suits, dressy boot cut crepe trousers and embroidered blouses. So whatever your style you'll find a look to suit any event from a day at the races to a garden party or evening out with friends.
you may also like…
---
Top to Toe Accessorises
Shopping at Eastex allows you to find quality comfortable clothing to suit all occasions. The established range of outfits include dresses with matching jackets, boleros and shrugs, crepe flared shimmer skirts, shell tops and waterfall blouses. The one shop destination provides everyday essentials, holidaywear plus smart sophisticated fashion and accessories, pashmina, hats, fascinators and satin bags.