Capture the mood of the season with the fabulous new arrivals at CC Fashion. Celebrate in style with a dazzling dress or fashionable lace outfit from the Siren collection. These chic two pieces offer the very best in autumnal and winter elegance and give your wardrobe an instant update. The delicate lace crinkle blouse and skirt can be worn separately but for a show stopping ensemble wear as a two piece suit.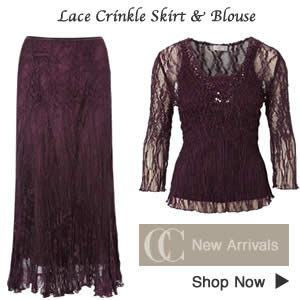 The rich grape hue is a great alternative evening look that makes a change from traditional black evening wear. The crinkle lace fabric of both pieces has been beautifully cut to flatter the figure. The lace-overlay long skirt also has an elastic waistband for extra comfort.
you may also like…
You can also shop complete outfits as well as accessory items such as beaded bags, feather stoles, pearl necklaces and earrings. There is a collection and style to suit every occasion at CC fashion. Enjoy super feminine outfits, embellished lace and brocade tops and skirts plus smart formal wear all in one place.
Lace Crinkle Blouse
Colour: Grape
Fabric: Polyester 100%
Hand Wash Only
SML MED LG XL
Lace Crinkle Skirt
Colour: Grape
Lace Overlay
Length: 32 inch
Fully Lined
Elastic Waist
SML MED LG XL XXL