Black Multi Ottoman Contrast Dress
Create the perfect hourglass figure with cleverly designed slimming illusion dresses that redefine the silhouette. Whether you want to add shape or appear slimmer the solution is to invest in a figure flattering illusion outfit. We love the black multi and grey contrast ottoman dresses at Alexon. These fashion forward styles in gorgeous jersey will give you stand-out status for day and evening special event dressing.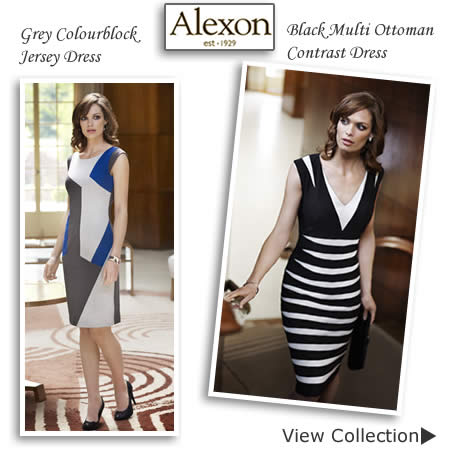 you may also like…
---
Black & White Occasion Dresses
The Murek Tape bodice mesh dress is a timeless classic that will cut you a wonderful figure. Totally elegant and perfect for the Captain's table. Details include graphic black and white lattice bodice, lighted moulded bra cups and adjustable shoestring straps.
This is just one of the many glamorous outfits from the Gray & Osbourn Dress Collection. Our other favourite is a real stunner by Michaela Louisa. This stretch panel dress has black panel sides for a streamline effect. Both dresses look great teamed with a black cropped bolero.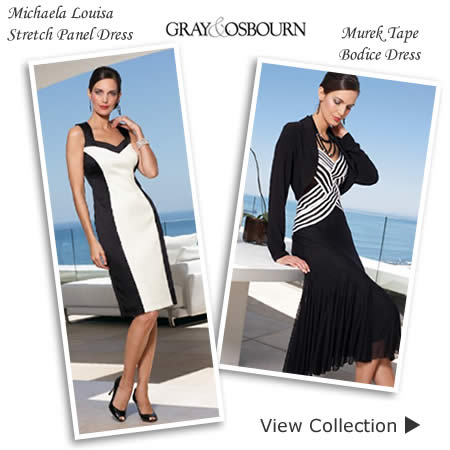 Shapewear Dresses at M&S
Chic and contemporary fashion from the new M&S Dress Collection includes a choice of colour block dresses. Their latest autumn-winter range covers the trend of illusion stripes and panels and adds a modern edge. The square neck black mix placement dress is great for work and smart occasions. It is fully lined with added stretch for a flattering fit.
Windsmoor Colour Block Dresses
Just Last Season is a ladies fashion outlet where you can save on the previous season's outfits from Jacques Vert, Windsmoor, Precis and Planet. A must have autumn look from Windsmoor comes in the shape of a black and natural scoop neck dress with long full sleeves available in sizes 10, 12, 14, 16, 18, 20, 22 and 24.

Illusion Dresses
A recent article in the Daily Mail highlighted the latest illusion dressing with eye-catching colour block designs. Kate Winslet wowed the crowd at a premiere event wearing a black panelled dress from Stella McCartney's winter 2011 collection. The clever style has also been adopted by other stars including Victoria Beckham and Carol Vorderman. Both have been seen in an illusion creation from the late Alexander McQueen. The use of black lines on a white dress worked wonders on their very different body shapes.