Pastel Pink Cocktail Dress
An enchanting dress in silky Duchess satin and lace from Coast. The knee-length Luma dress is fully lined and comes in two fabulous shades. A great choice for a wedding reception or the cocktail hour simple accessories is all you need to complement the glamorous style. Choose all-over pastel pink for understated elegance or go with pale pink and black for a standout look. Details include sheer ornate lace at the hem and neckline, satin belt to accentuate the waist and gentle ruching for added shape. The dress also has a piped back zip and is 99cm/39 inches long. Available in sizes 6, 8, 10, 12, 14, 16 and 18.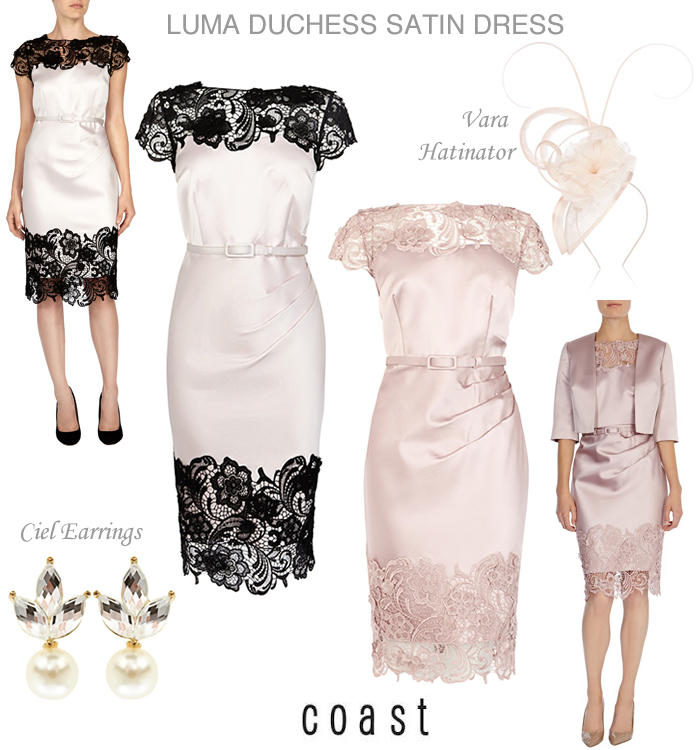 Dress and Jacket Occasion Outfit
The Luma dress works perfectly alone but for a complete occasion look team with a sleek bolero or cropped evening jacket. The Sunnita cover-up is an ideal partner to wear over dresses and tailored outfits. Expertly structured with a cropped style to enhance any outfit. Features darting detail under the bust, half sleeves and full lining for effortless wearing. Choose from black, natural or pink to wear with your favourite going out dresses.
you may also like…
Vara Hatinator
For daytime occasions and formal functions finish your ensemble with the stunning Vara Hatinator. A real gem that will add a contemporary flair to your outfit. Featuring sculptural circular shapes, corsage flower detail and woven base on a sturdy headband. The stylish hat is designed to fix to tilt for a feminine look. In addition to unique hair accessories add a little sparkle with the pretty Ciel stud back pearl earrings. Dazzling crystal stones are set in a gold-toned backing.