Satin Dress & Frock Coat
Find outfit inspiration for all your upcoming calendar events at Coast. Complete top to toe occasionwear for every wedding style are ultra modern and elegant. Mother of the Bride and Wedding Guest Outfits are modern and stylish. Like the stunning Georgia May Duchess Print Dress with Crop Jacket offer stylish and co-ordinating looks.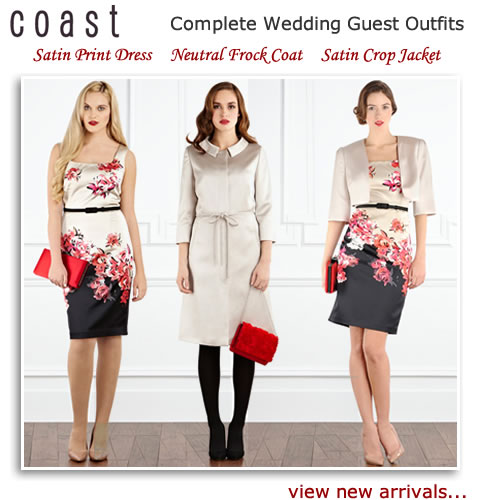 ---
Wedding Frock Coats
The Frock Coat is big news this season and perfect for an alternative cover up to wear in the evening. The neutral shade and smart tailoring create a sleek silhouette. Add a pop of colour with a red clutch or court shoes.
Duchess Print Dress with Crop Jacket
This beautiful combination is made for weddings. The Tasmin crop jacket comes in blue, black or neutral. Its structured style with a touch of stretch is ideal over tailored outfits and shift dresses. Guaranteed to fit and flatter all is the luxurious duchess satin dress that can be worn with light or dark cover-ups for a different look. Finding finishing touches is easy too with eye-catching bags, shoes, jewellery and fascinators.
you may also like…
---
Cocktail Dresses
There's should always be room in your wardrobe for investment pieces that will give you party perfect results every-time. Formal and fabulous social events are a great excuse to buy some show-stopping styles. Whether you go all out in a maxi dress or choose to play safe with a LBD one thing's for sure, you won't be short of admiring glances. Hip-hugging, body sculpting and couture-inspired numbers exude glamour and regal elegance.
Formal & Smart Fashion
Work classic into your occasionwear collection too with slim pencil skirts, silky camis, frill blouses and embellished knitwear. Shop Coast for everyday chic and gorgeous evening gowns, wedding wear and matching accessories for a polish refined appearance.